As autumn marches on we are not only being treated to a blaze of colours on the river banks but a wonderful display of wildlife.
We had an unusual visitor in Wroxham Village last week – a Mandarin duck.  The amazingly colourful bird (which was also spotted in the village earlier this summer) was introduced as an ornamental duck from China but has now become established having escaped captivity.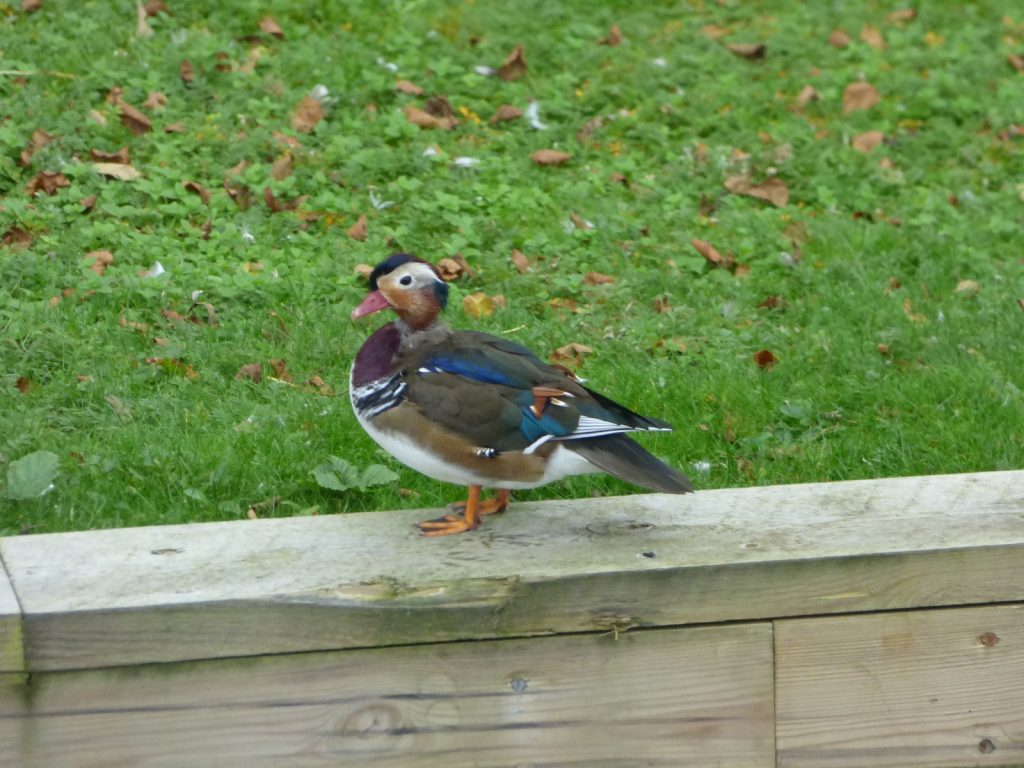 The RSPB estimates that there are now 2,300 breeding pairs of Mandarin ducks in southern and eastern England, with a total of 7,000 birds wintering here.  Despite the growing numbers they are still a welcome surprise with the males displaying distinctive long orange feathers on the side of the face, orange 'sails' on the back, and pale orange flanks. The females, by comparison, are much more drab.
We are continuing to enjoy ever more encounters with otters.  At the time of writing an otter had just jumped onto the bows of a small dingy, very close to passengers who were boarding the Queen of the Broads for a boat trip, before jumping back into the water.
Last week an otter surprised skippers and crew by going underneath their feet on the pontoon to board the Belle of the Broads.  "I could hear the otter snorting as it breathed out and as I looked down and it was right under my feet" explained Krissy, a crew member. "I was really excited to see the otter and watched it swim out from under the pontoon, across the boatyard and underneath a fisherman, who said that it had crawled into a hole in the bank," she continued.
The dayboat team also believe that there is a family of otters living under Wroxham Bridge and Skipper Oli managed to snap this picture of an otter just a little further downstream opposite the Hotel Wroxham at the start of a boat trip.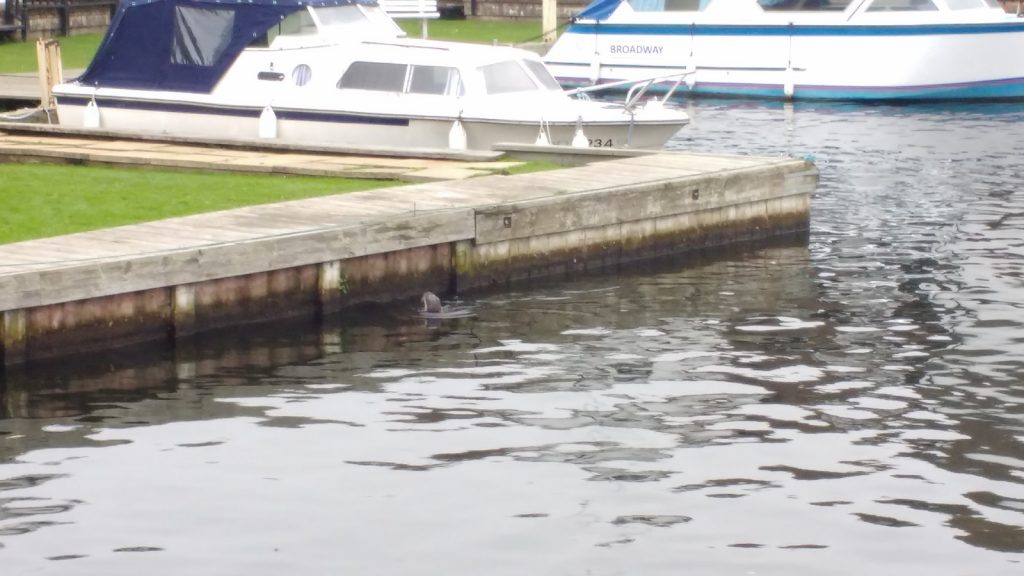 "Almost as soon as we had turned out of our boatyard and on to the river I noticed a stream of bubbles coming from under some moored boats outside the Hotel Wroxham.  This is a tell-tell sign of an otter and, sure enough, it appeared out of the water a few seconds later," Oli explained.
"My passengers and I watched the otter swim passed the hotel, cross in front of our boat and then swim up a boat dyke in the opposite side of the river where I managed to take a slightly blurry picture with my phone.  It was a magical encounter, but an experience we are lucky enough to be seeing more and more frequently.  I'll make sure I have my big zoom camera with me next time so that I get a better picture!"  Oli continued.
Not everyone has been so pleased to see the otters though, with some fisherman complaining of them stealing fish from their keepnets. But Broads Tours' James Greasley, had the most unusual story: "I was sitting quietly fishing when an otter suddenly came out of the water and snatched an unsuspecting pigeon from an overhanging branch and dragged it under the water.  It gave me quite surprise as I didn't know that otters did that," he said.
On the subject of fisherman and wildlife, we have noticed that more and more herons are sitting by fisherman  in Wroxham hoping for a free lunch.  The birds appear to recognize fisherman and realise that they will often throw them a fish.  This is particularly interesting because herons are usually shy, territorial birds but as Wroxham is quite a busy section of the Broads they appear to have not only got used to people but realised the opportunities they bring!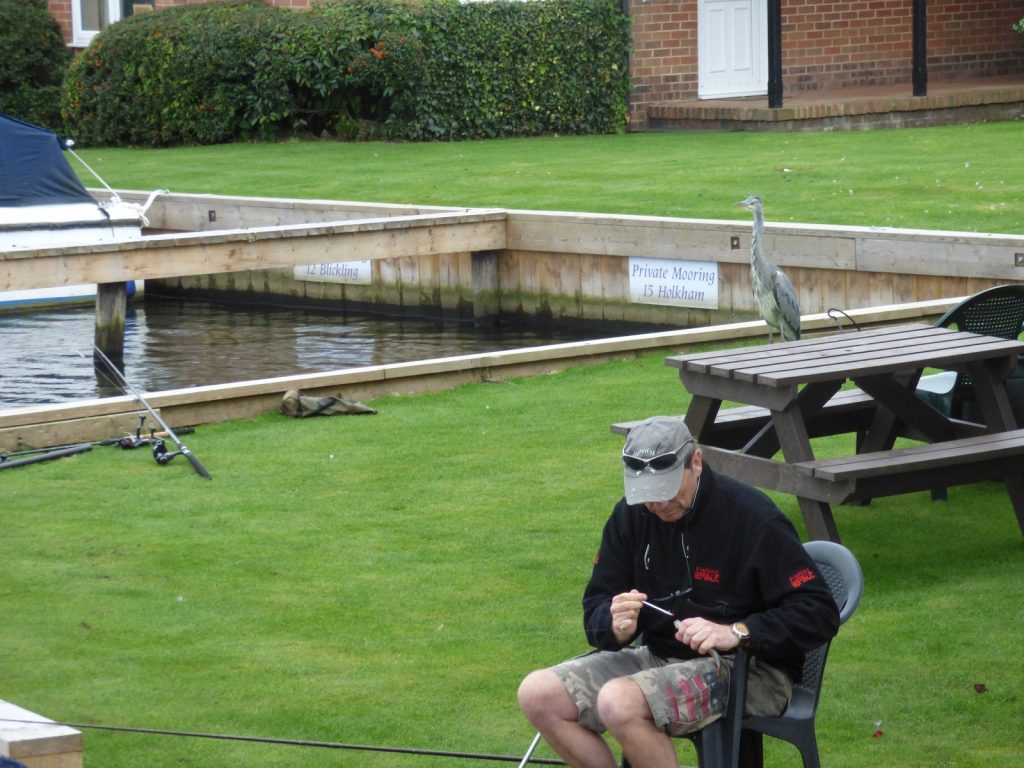 Another very interesting phenomena is lots of birds acting very territorially as they would in the spring.  This includes swans puffing themselves up and seeing off rivals (see picture below), Great Crested Grebes seeming to fight over mates, Kingfishers chasing each other and even an Egyptian Goose returning to the roof of a summer house where the bird had nested that spring.  Our best guess for this behavior is that there is similar daylight and temperatures in the spring to the autumn and this is tricking the wildlife into acting as they would around breeding season.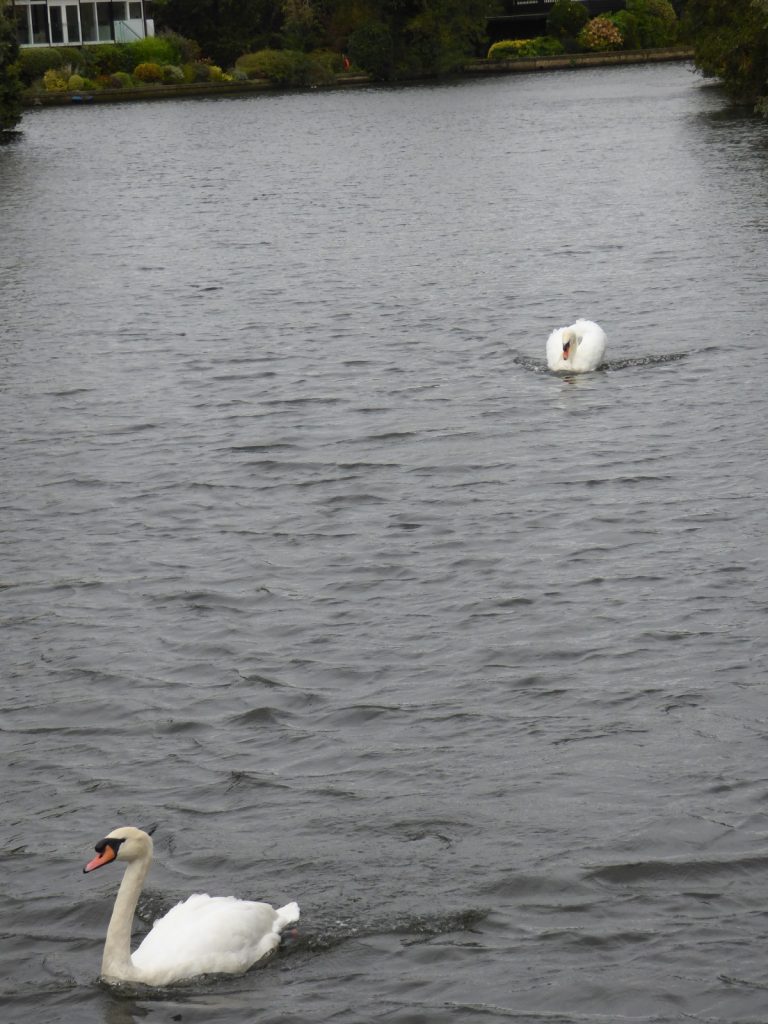 One bird that certainly knows that winter is coming is the tufted duck.  These shy diving ducks started to reappear on Wroxham Broad about a week ago and are quickly growing in numbers having been absent all summer.  Although the birds breed on the Broads, they hide away in more remote sections of the National Park until the quieter winter months when they come back out into the open and their numbers are also bolstered by birds migrating from Iceland and northern Europe.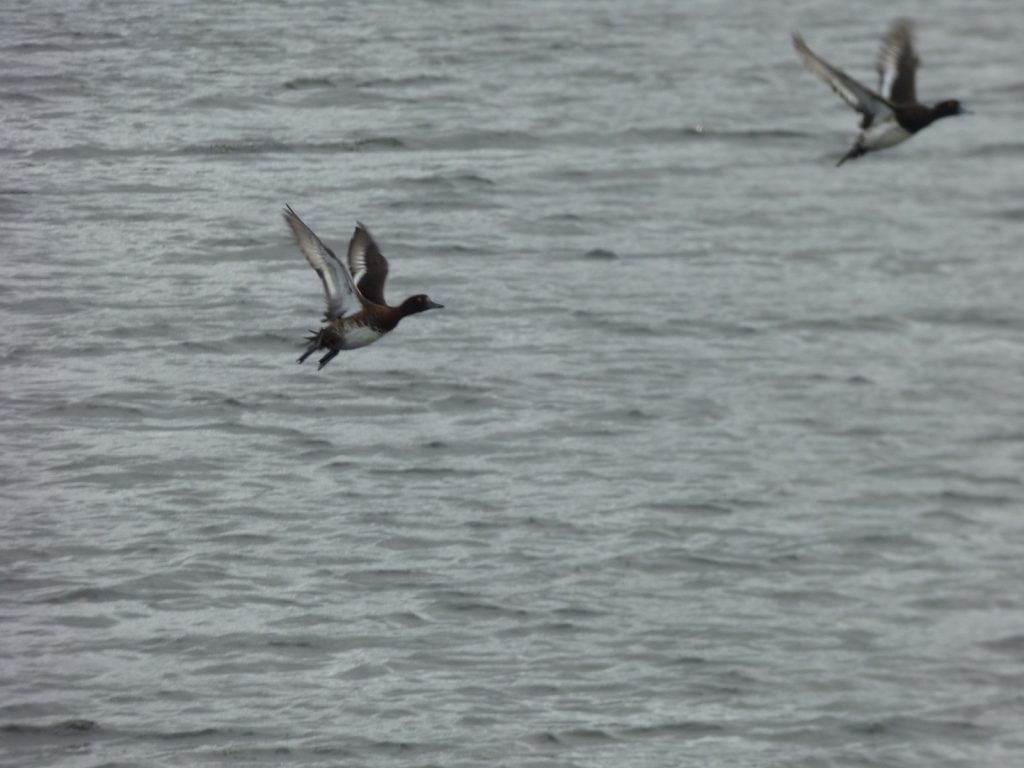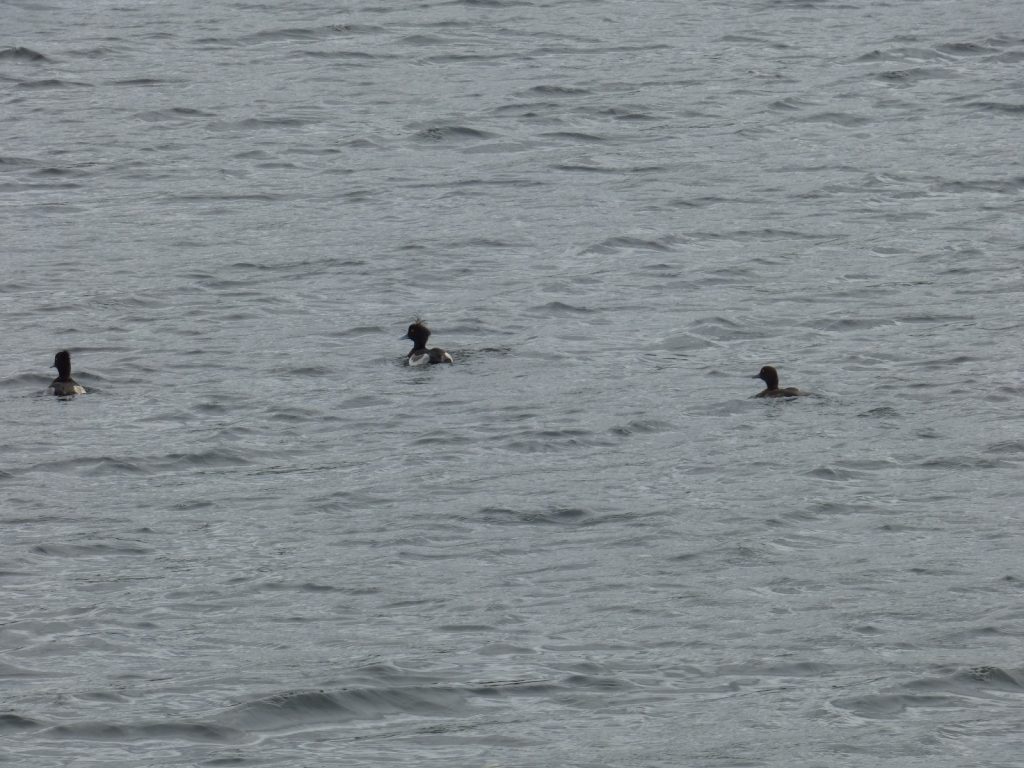 Similarly, Canada geese are showing up on Wroxham Broad, having been absent all summer.  This is quite strange as you would expect to see Canada geese (which were introduced from Canada and are now sometimes considered a pest) all year round.  One possible explanation is that they found a more productive food source elsewhere in the summer and are returning as winter approaches.
Finally, we will leave you with two contrasting images taken by Oli during a boat trip.  A heron flying gracefully by Wroxham island and a head shot of a Cormorant on Salhouse Broad – not the most graceful bird but interesting in the right light!