Now is one of our favourite times of year to be on the Broads, as the National Park dons its winter coat and takes on a whole new persona.  Waterways that were buzzing with boats only a couple of months ago are now transformed into a wonderful winter wilderness.
While there are far fewer human visitors, birds have been flocking to the Broads from northern countries to take advantage of the relatively warmer climate, while shyer resident species like otters and tufted ducks come out into the open to enjoy the tranquil conditions.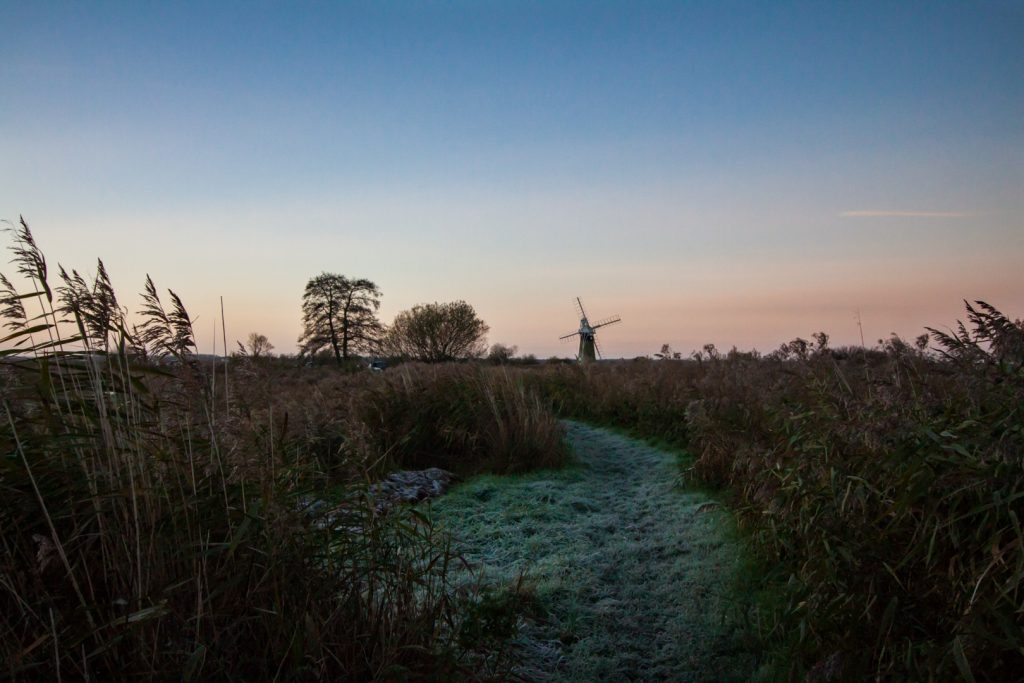 Not only have we been treated to some beautiful sunny days and mild weather lately but there has never been a better time to experience the Broads at its autumnal best.  Our Queen of the Broads Trip boat has just had a new heating system fitted so that you can enjoy a mince pie and mulled wine trip in comfort.  Or just wrap up warm and explore on your own with one of our day boats!
Spotting an otter is usually at the top of our passengers bucket list and now is a great time to see them as they are more likely to come out into the open when the river is quiet.  James Greasley managed to capture this magical moment with two otters playing together.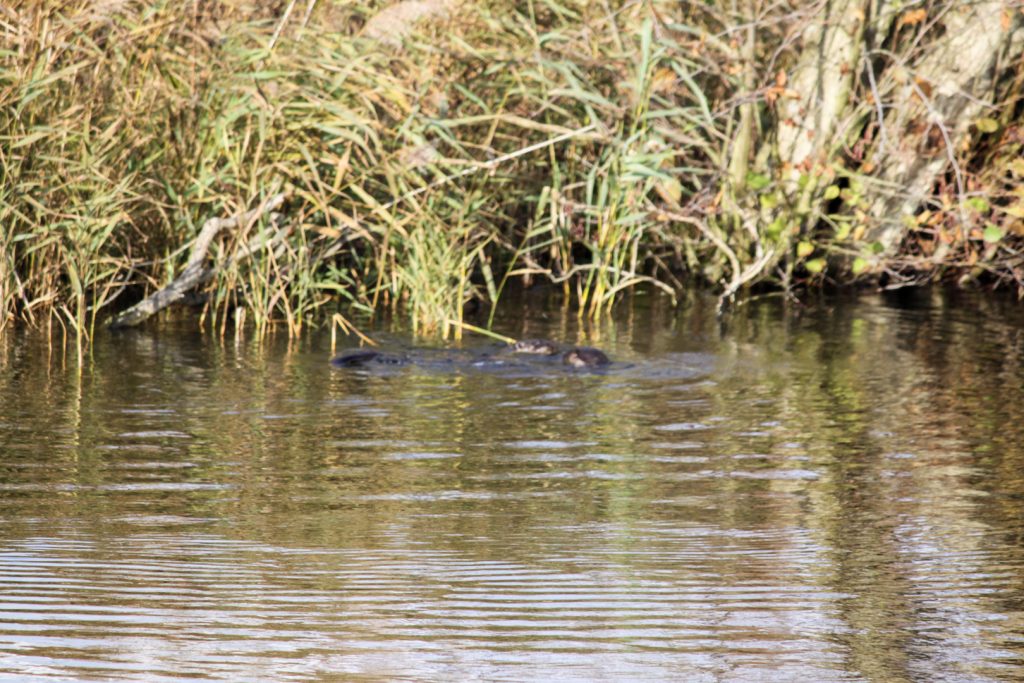 James explained "I was travelling along the river Bure when I noticed two young otters swimming together and playing in the reeds at the entrance to the dyke leading to Ranworth/Malthouse Broad.  It was a magical moment but hard to take a clear picture!"
Perhaps even more excitingly, we haven't had to go far to see otters as they have been coming right into our boatyard! Boat basins attract large numbers of shoal fish at this time of year and the otters have been coming in for a nice easy meal.
One of our skippers Tobi explained "Otters have been around quite regularly, plaguing the fishermen by venturing into their boats (not whilst the fishermen are in them of course!) We have seen otters in our boatyard, playing around underneath the pontoon and the bows of the Queen's of the Broads Trip boat. It even felt that they were playing with me as I fumbled on a chilly morning to get my phone out to catch them on camera. I failed!"
One member of staff who had more success taking a photo is our engineer Simon who took this remarkable picture of an otter running across our car park and sitting on the quay heading for a minute!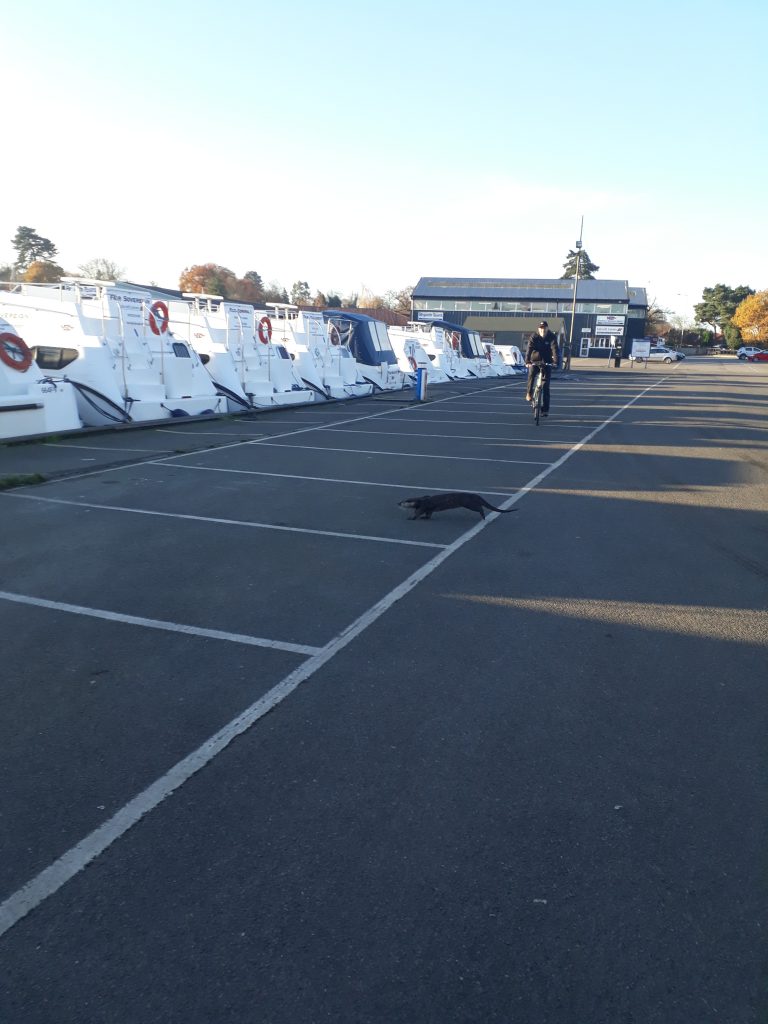 We are also seeing a good number of birds of prey on our trips, buzzards circling high on the thermals or appearing from the woodland around Wroxham Broad.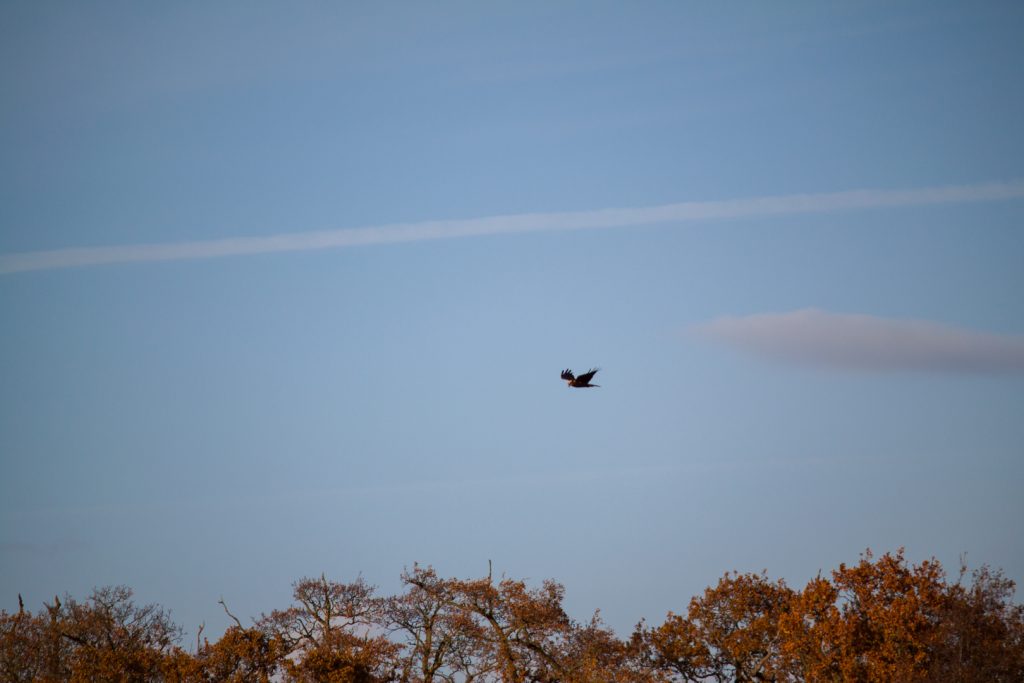 A kestrel is also often perching at the top of a tree on Wroxham Island, only temporarily disturbed by our passing trip boat.   "As we approach the kestrel it has tended to take off and fly over the island looking for a tasty morsel – on several occasions we have been able to watch it hovering and holding position whilst it inspects minor movements amid the vegetation," explained Tobi.
Another very much smaller species we are delighted to be spotting with increasing frequency on our boat trips is the little grebe, also known as a 'dabchick'.  "Having had a few early spots of little grebes in the late summer, almost every trip is now yielding at least one sighting of these dumpy birds, " explained Tobi.
Although little grebes are scarce in the main season as the river gets quieter the shy little birds venture out and congregate in growing numbers.
"What started off as a pair of little grebes just downstream of Wroxham Broad on a nice sheltered S-bend in the river has grown to a group of five, spotted twice on our trip on Wednesday – each taking its turn to delicately dive down to fish," explained Tobi.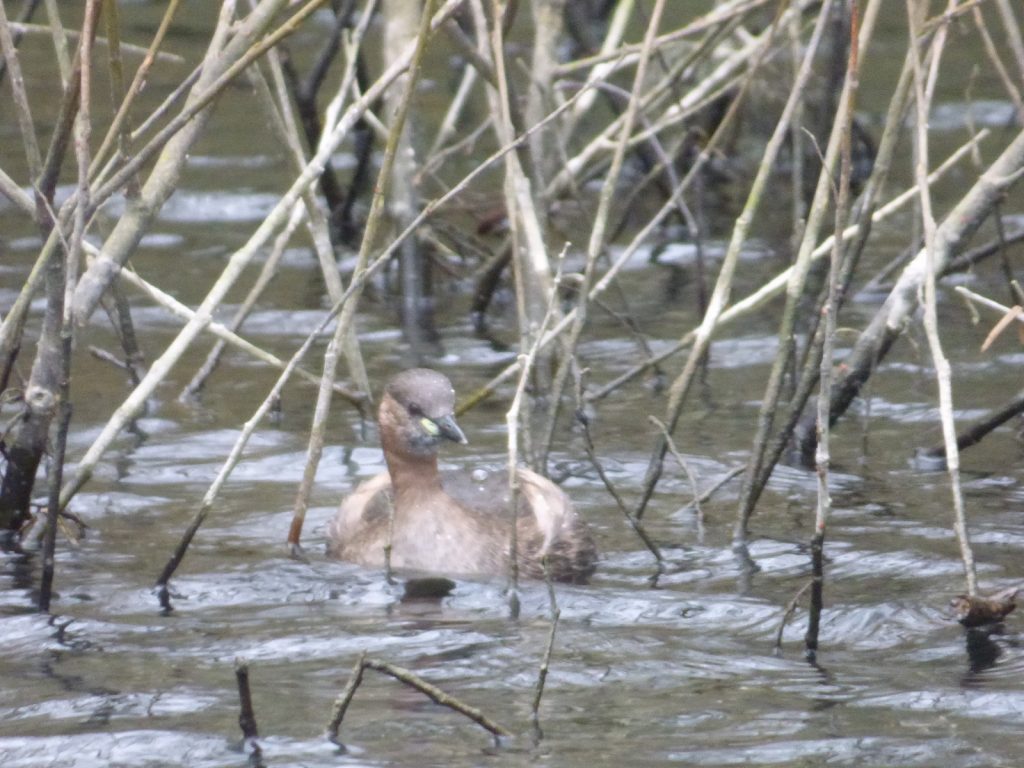 Strangely the winter season seems to be having the converse effect on the little grebe's cousin, the great crested grebe.  "While great crested Grebes are one of the most common birds spotted in the summer, sightings are less frequent at this time of year.  We have only seen two or three pairs of great crested grebes on the duration of our trips although, of course, they are more difficult to spot at this time of year as their feathers have faded from the colourful orange breeding plumage to a white, grey and brown winter outfit," Tobi explained.
Tufted ducks have risen in number with 20-30 regularly hanging out at the shallow and sheltered northern end of Wroxham Broad. Tufted ducks are another bird whose numbers are bolstered with winter migrants. Whilst some are resident in the UK, we tend not to see any during the summer, as they are very shy and keep hidden away until boat traffic reduces in the winter season.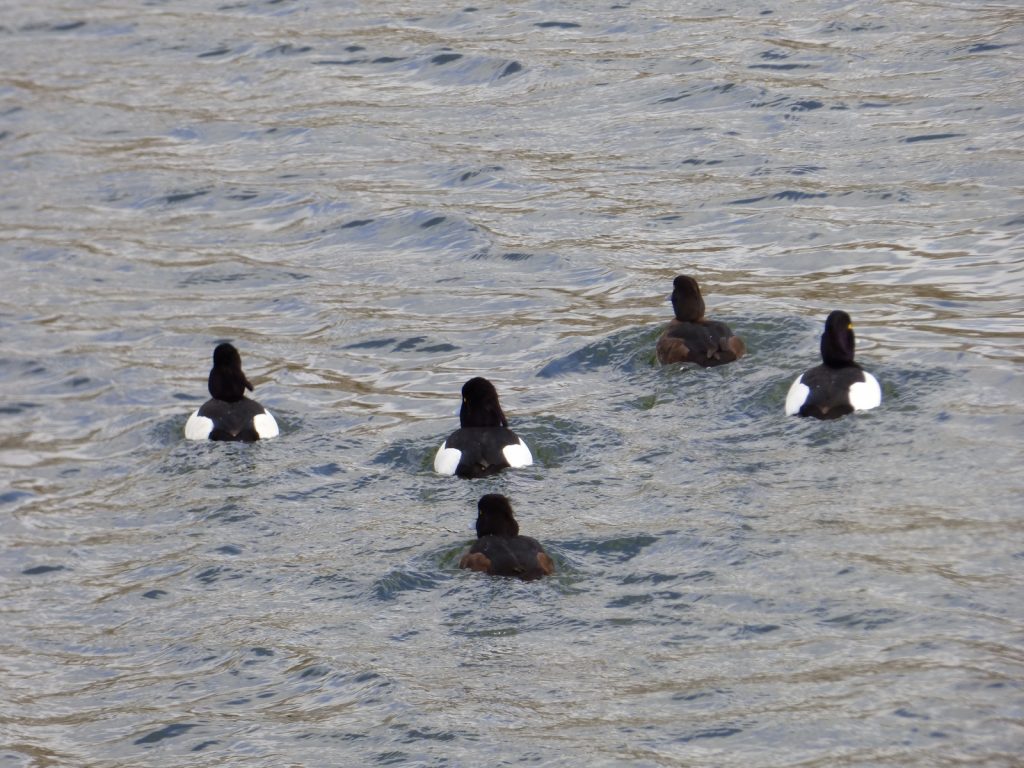 The coots and tufted ducks seem to be quite sociable and a large group of both types of bird can usually be seen ( 50-60 in total) on Wroxham Broad where they will be using up less energy in the shelter of the trees and shallow parts of the Broad. Here they will be diving down to pick up fresh water molluscs such as Zebra mussels.
A few of the rarer Gadwall ducks have been flying past, probably heading over to Hoveton Great Broad.  These wonderful birds seem a little like a female mallard from a distance but on closer inspection are smaller with an intricate barring pattern on their feathers.
There are still plenty of grey herons to see, which continue to follow Anglers hoping for a free meal!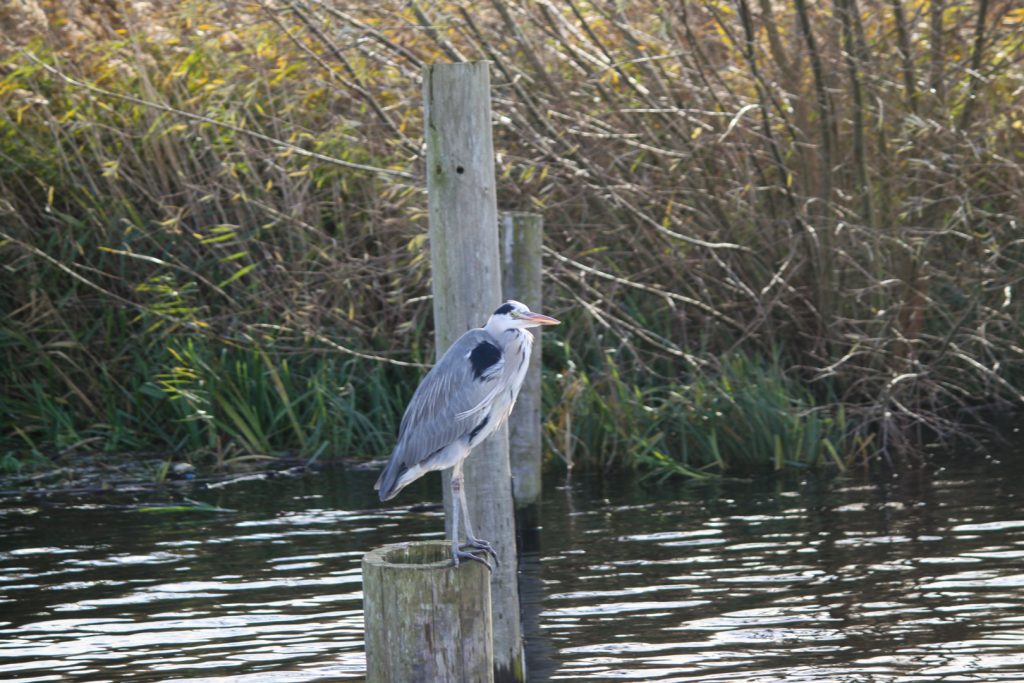 Other common sights – both pictured by James against a wonderful blue sky – include black headed gulls and Canada geese, which were almost absent in the summer but are returning to Wroxham in growing numbers.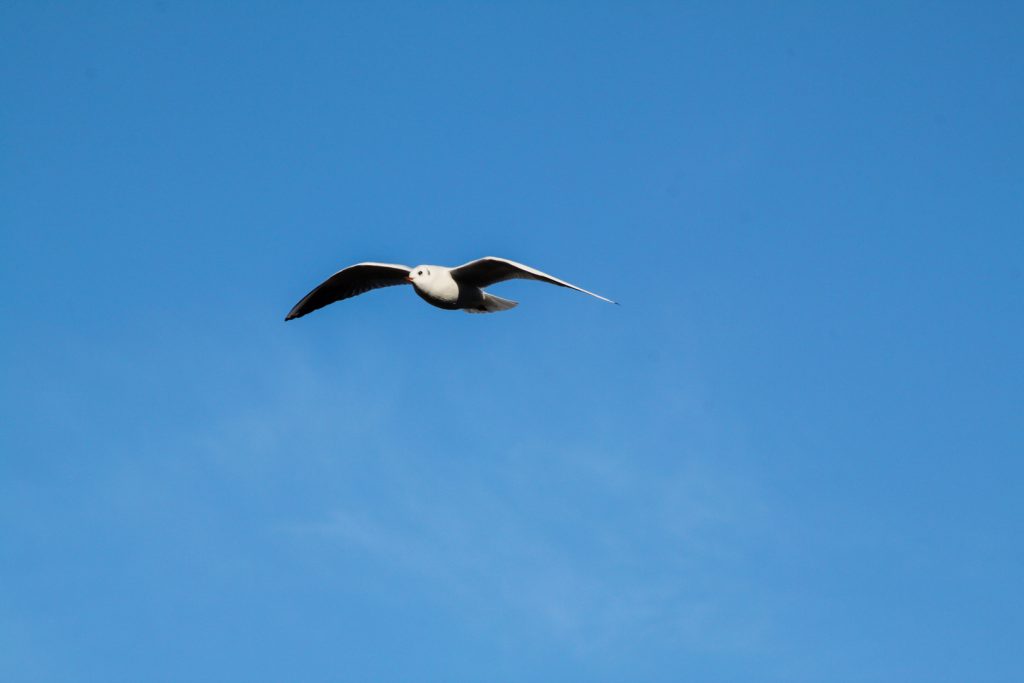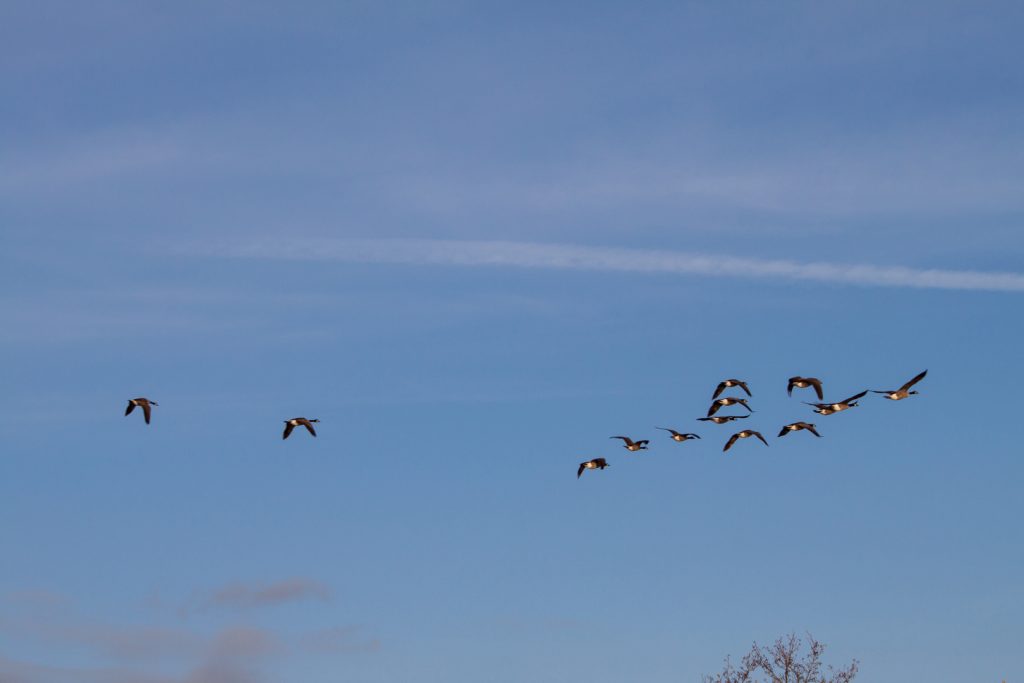 Cormorant numbers are also increasing, with seven or eight on the trees on Wroxham Island and a few on Salhouse Broad. Occasionally we've seen them swimming in the river or on trees in the villages.
Another lovely sight was this flock of starlings, which James managed to photograph while out on the river.
Starlings put on one of the greatest shows in nature at this time of the year – known as a murmuration.  At sunset thousands of birds flock together making incredible twisting patterns in the sky that is designed to protect them from attack from predators, who find it difficult to pick off individual birds.  They then settle down in the reedbeds to roost in these tightly packed groups to share warmth in the colder months and possibly to communicate information about the best feeding sights.
Finally, with the Broadland landscape reaching its autumnal best, we will leave you with some beautiful landscape pictures taken by James.