International bestselling author Erica James has just released her 22nd book – Swallowtail Summer – and its set right here on the Broads!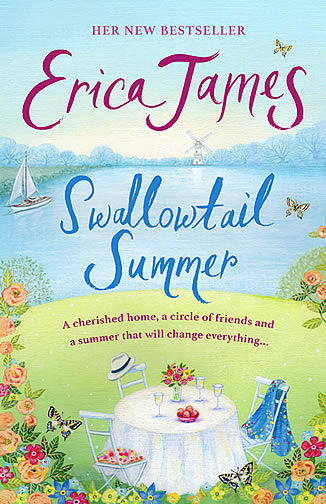 The Romantic Novel of the Year award winner, who has sold more than five-million books and had her writing translated into 13 languages chose to set her book on the Broads after a recent holiday to our National Park staying in a riverside cottage.
Swallowtail Summer is set on the Broads in a fictional village called Linston End, which draws more than a little inspiration from the Horning area.  Three families spend every year together in a holiday cottage in the village and it feels as if nothing will ever change. Then widower Alastair threatens to do just that, by telling his friends about decisions he's made that are bound to shock them and send ripples through the still waters.
Erica isn't the only author inspired by a love of the Broads.  One of our very own former Broads Tours trip boat skippers, Chris Crowther, has released a series of murder mystery books set on our National Park featuring Broads Ranger Jack Fellows as the sleuth.
Last year Chris, who lives on a riverside house in Hoveton, released his first children's book – Timecruiser.  This follows the adventures of three 13-year-olds who are transported back in time during a holiday on the Broads and have to voyage through history as they struggle to return to their own time.
You don't have to be an author to be inspired by the Broads – why not see it for yourself on a boat trip with us!