The coarse fishing season drew to an exciting close on Wednesday (15 March) leaving fisherman anticipating some more great sport when the new season opens on June 16th. The Broads is legendary for its pike fishing and the last few months have produced some great catches, with pike being caught to well over 20lbs in and around Wroxham.
One of our skippers and keen fisherman, Oliver Franzen, hired one of our day boats last Saturday and Sunday and took to the water to try his luck with only a few days left in the season.
As someone who has spent the last twenty five years obsessively pike fishing on the Broads, the last weekend of the fishing season is always a very special time for meÖ.Itís a last chance to try and catch that mystical whopper that could be just another cast away.
This year I had a bit of a treat because rather than being crammed into the usual small little rowing boat I borrowed a Broads Tours Day boat with enough room to stretch out, while still leaving plenty of space to fish from the stern of the boat with the canopy down.
Hopes were high on Saturday morning as I headed downriver with my girlfriend towards Belaugh (in the direction of Coltishall.) The weather was warm and dry and another fisherman had already caught a 19lb pike close to Wroxham Bridge!
The first bit of action came when I landed a small jack pike about three pounds on a floated smelt while moored up close to Belaugh church. I was excited to get off the mark but my girlfriend ñ with whom I was enjoying a strawberries and cream picnic at the time and had come to read magazines and sit in the sunshine – didnít look quite as pleased as me!
The best of the action was to come later in the day though, when I fished a tight bend and had a tremendous run on floating smelt. As soon as I struck the fish felt solid and gave me a superb fight for around 10 minutes, making long runs across the river and even tail-walking. By the time I had landed the pike my arm was aching and I was delighted to have banked probably my biggest fish of the season shown below.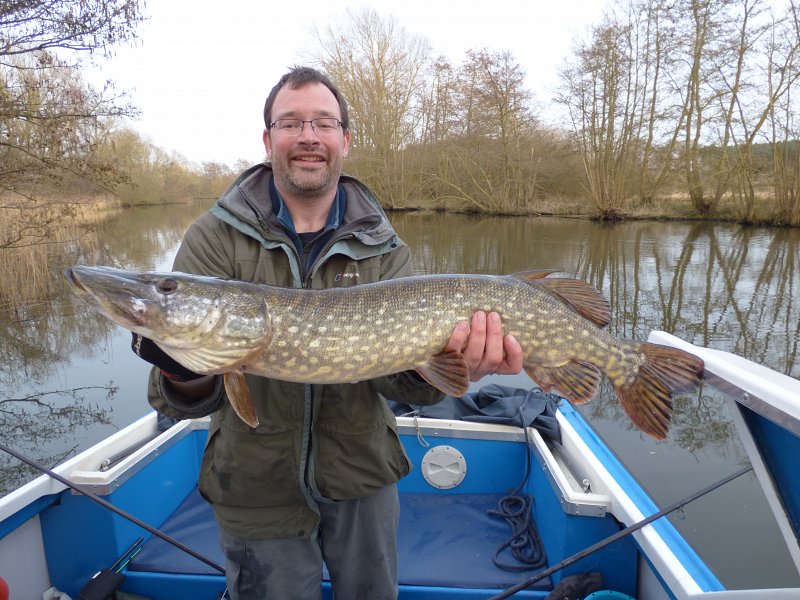 Only a few minutes after returning the first pike I had another run on smelt and by ironic contrast landed my smallest pike of the season ñ barely a pound ñ before having to return back to Broads Tours before dark.
The following day I headed out full of expectation with an old fishing pal. He almost immediately struck into a good pike in the entrance to Bridge Broad, upstream from Wroxham, but sadly it came off. That seemed to set the tone for the day because despite having quite a few runs we either struck into nothing or the pike dropped the bait before landing them.
It didnít spoil the day though as we were treated to some wonderful wildlife that came close to us while sitting quietly fishing. The kingfisher shown below perched on a branch near us, a water deer stealthily past on the opposite bank and marsh harriers and buzzards soared over head.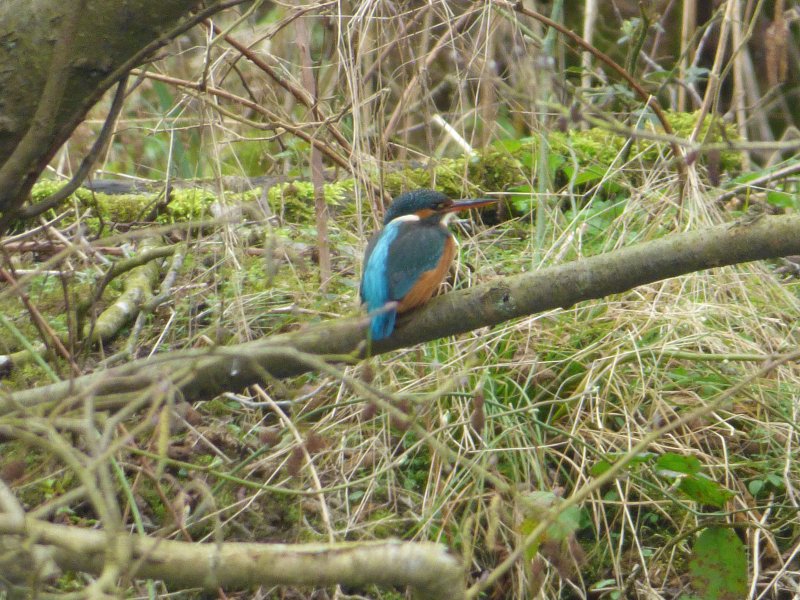 But the PiËce de rÈsistance came when an otter swam across the river right next to our moored boat. A fabulous sight ñ that nearly made up for loosing yet another pike a few minutes later!
Thanks to Broads Tours for a great weekend and Iím already looking forward to the next fishing season!