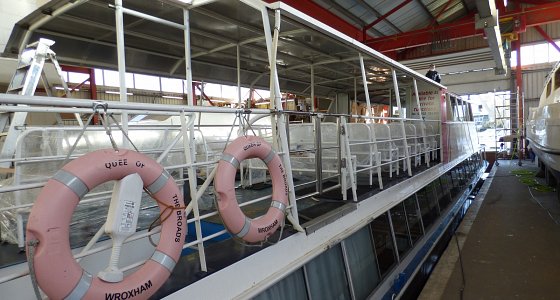 Anyone who has been to Broads Tours or our sister company Norfolk Broads Direct (which provides boating and cottage holidays) in the summer will have experienced a buzz of activity from our staff. But one of the most common questions we are asked by customers is "what do you all do in the winter months when there are far fewer visitors to the Broads?"
The answer, of course, is all kinds of maintenance to keep things looking great for next season – from transforming and maintaining our boats to building Norfolk Broad's Direct's luxury holiday cruisers, decorating cottages and even curtain making.
One of our most exciting projects is revolutionising the top deck of our largest trip boat – The Queen of the Broads – so that it's even better for visitors in 2017.
In response to feedback from our customers we are changing the outside seating area to have forward, rather than sideways, facing seats. This will give passengers a better view of the river. The old heavy benches have been replaced with modern, lighter seats that are not only more comfortable but that can easily be slotted in and out. This will make it easier for skippers and crew to quickly change the seating pattern when using the Queen of the Broads for private evening charters. To complete the look we will be fitting a smart new canopy to the outside area.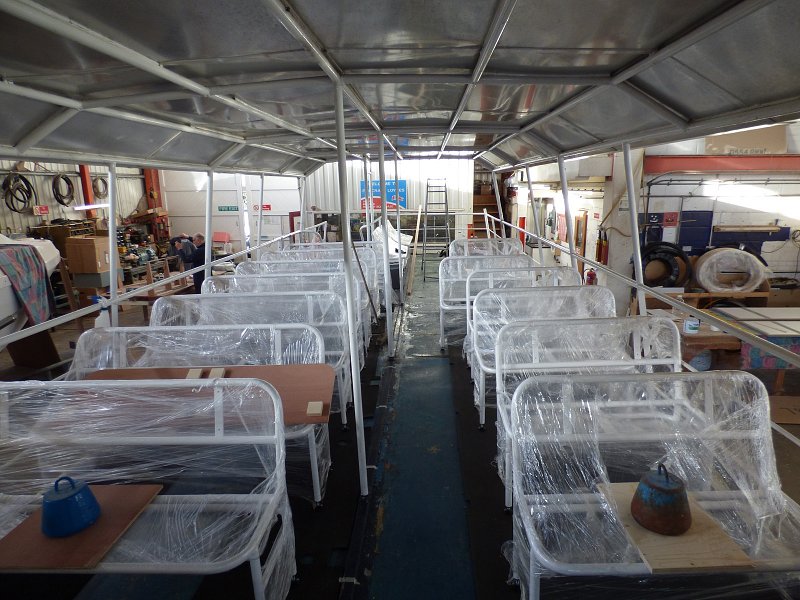 The Queen's top deck cabin area will also be transformed. We have gutted it inside to replace the wooden panelling for a smart new look, LED lights will set it all off nicely, and the existing upstairs toilet will be enlarged for greater accessibility. The boat will also be completely repainted and have the windows resealed.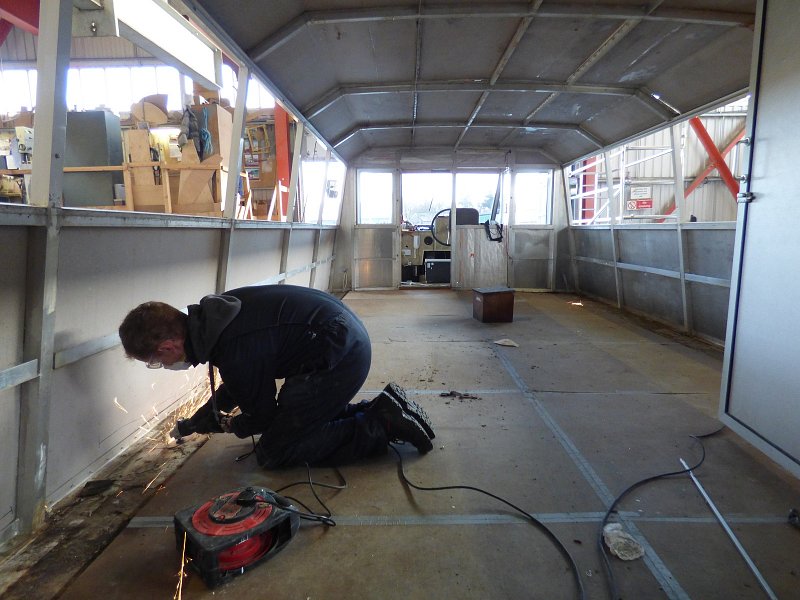 Another operation is preparing all four of our trip boats for the annual Maritime and Coastguard Agency (MCA) out of water survey and inspection. This is a little like a car MOT, but on a grand scale, to ensure that boats are safe and seaworthy. The picture below shows the Queen of the Broads being craned out ready for inspection – not a simple task since she is 80ft long!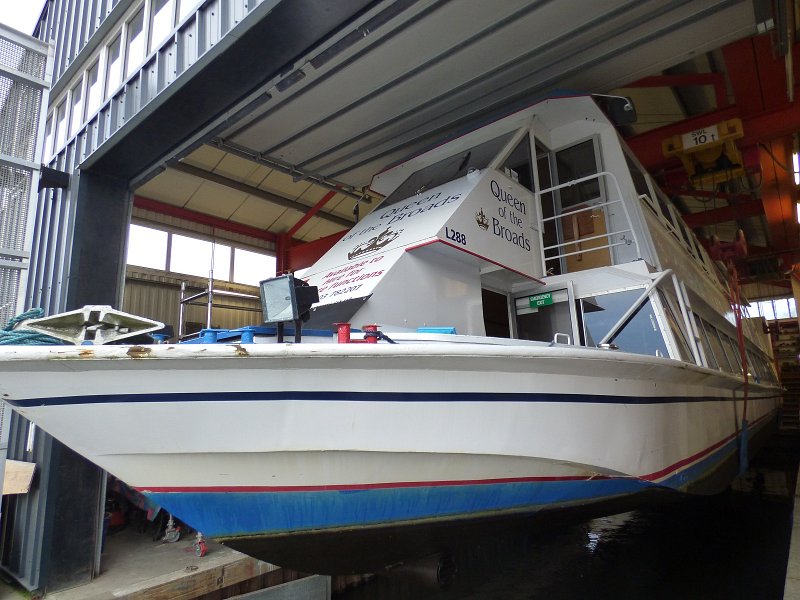 All the other holiday cruisers and day boats in our fleet are given some TLC over the winter so that they are in tip top condition for the 2017 season. They are craned out of the water and into a large boatshed in batches where they cleaned, repaired and antifouled. The day boats are sanded down and painted, while the fibre glass on the holiday cruisers is thoroughly polished to make them look shiny and new.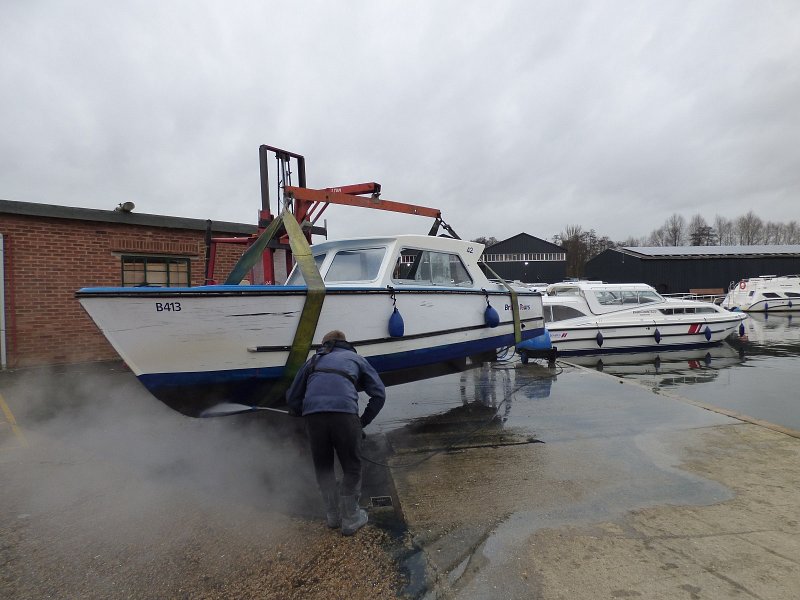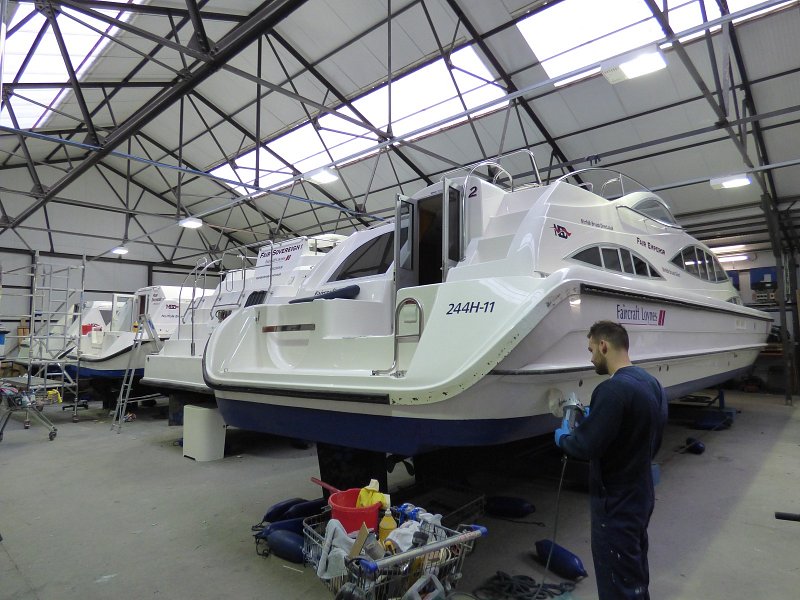 Meanwhile our team of boat builders are making our most luxurious cruiser yet – The Entrepreneur – to update Norfolk Broad's Direct's fleet of 60 holiday cruisers for 2017. The 46" boat will boast two spacious double bedrooms, both with a full-sized en-suite shower room, and an airy central saloon.
Currently the galley is being fitted and we have just finished installing limed oak effect laminate flooring and a smart new cream ceiling with a purple stripe. New cabinets have also been constructed and a sofa is being built in the saloon.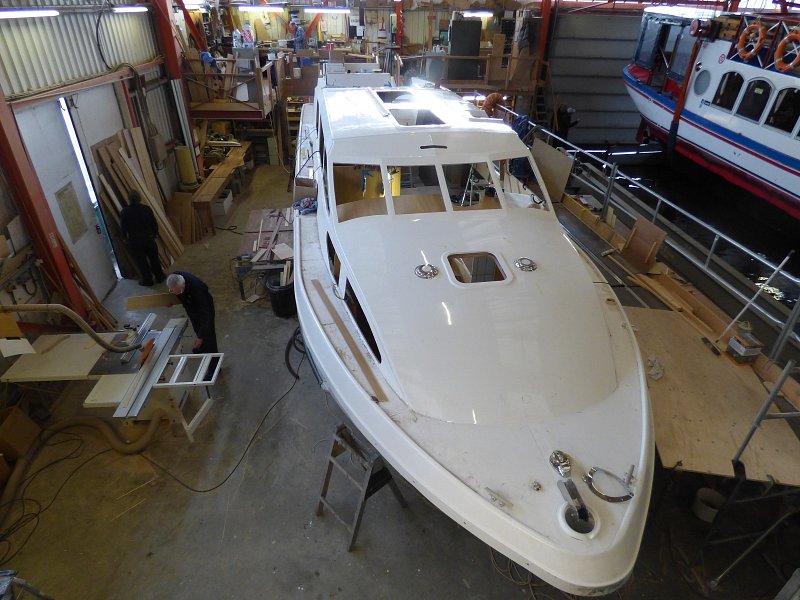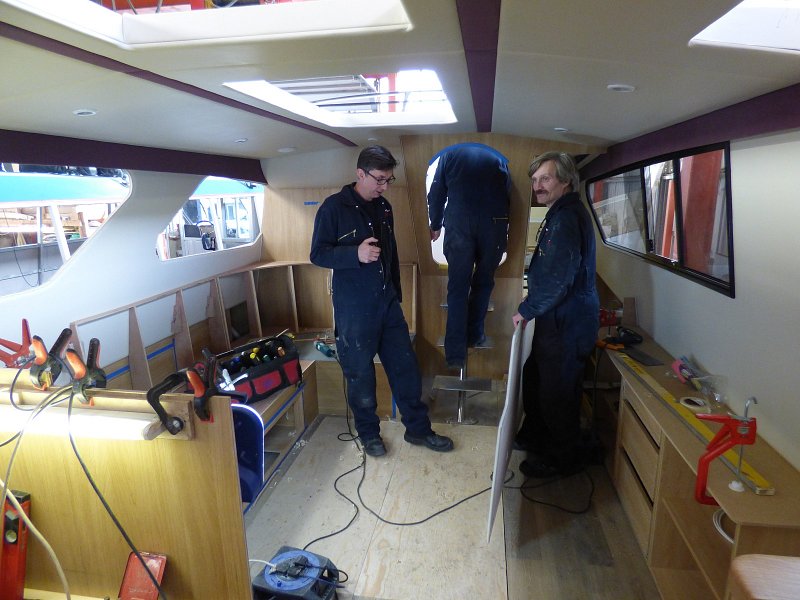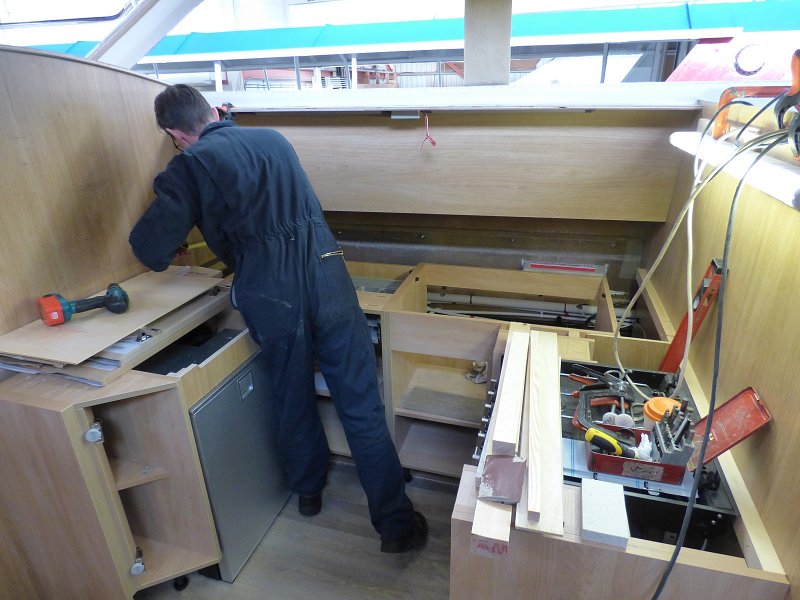 One of the most interesting winter transformations is Norfolk Broads Direct's fleet boat reception, which is turned into an upholstery workshop to make fresh new soft furnishings for our holiday cruisers, trip boats and cottages. It's out with the welcome packs and in with the sewing machines! Two of our seasonal summer cleaners – Richard and Danny – have a real talent for upholstery and are turning their hands to making everything from curtains to pillow cases for a smart new look in the 2017 season.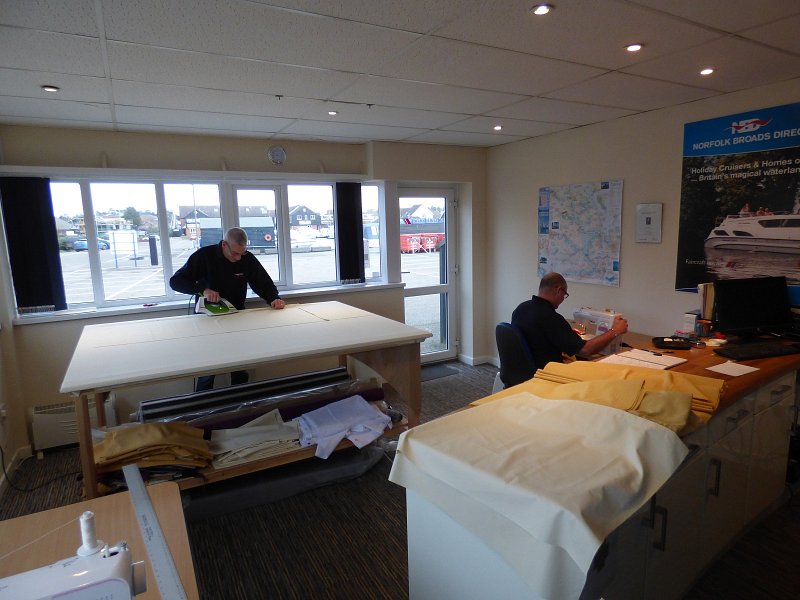 Not to be outdone, our housekeeper and office staff are busily painting and decorating all of our holiday cottages. So, while the Broads may be quiet at this time of year, we are all turning our hands to different tasks to make 2017 the best season yet.