The river is alive with young birds still being hatched late into the spring, while others which were incubated earlier in the season are really starting to grow up.
This is best seen in the ever abundant Greylag Geese. Their goslings are all sizes from tiny bundles of fluff to birds that now closely resemble their parents, depending on when they were hatched in the season.
On the subject of geese, we have been sent this lovely picture of an Egyptian Goose in Wroxham with its young from Carolyn in Brisbane, Australia. In truly international style Carolyn took the picture while on holiday on the Broads and then emailed it to us from 'Down Under'.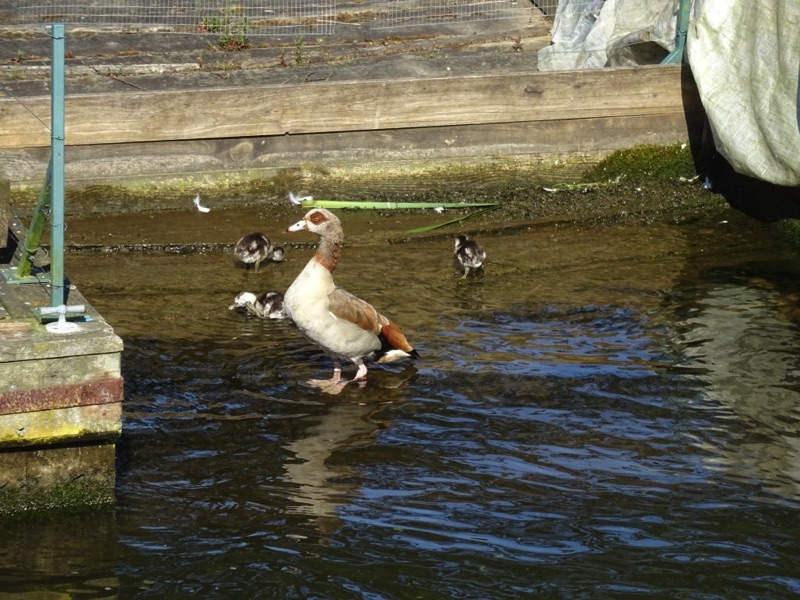 Credit Carolyn
Egyptian Geese are, in fact, in the Shelduck family rather than being true Geese. This is particularly obvious when looking at their young, which closely resemble ducklings.
On the subject of ducks, there is a very cute family of Mallards with fluffy ducklings near Horning as shown in this picture: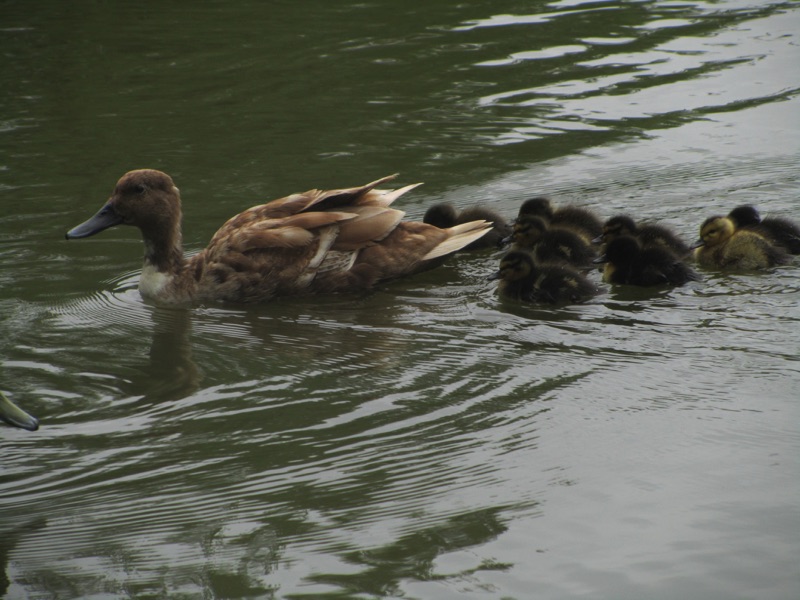 Great Crested Grebes are another species that is doing well with its young. In earlier editions of this blog we followed a Grebe family that hatched their chicks near the entrance to Salhouse Broad and, while sadly only one 'Grebelet' remains, it is now becoming big and strong as shown in this picture.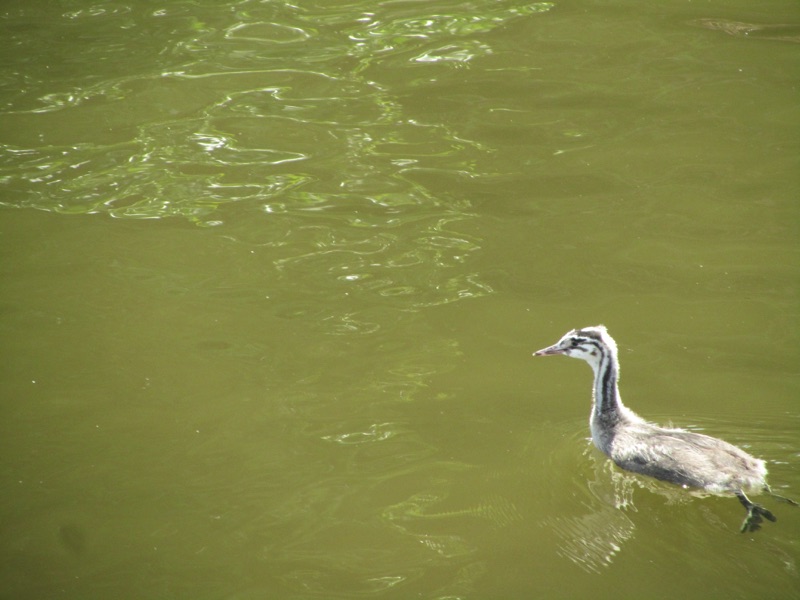 We are also watching two new families of Grebes to the delight of our passengers on Wroxham and Salhouse Broad. On Wroxham Broad a single Great Crested Grebe baby is being carried on its Mum's back near the sailing club, while three newly hatched chicks are doing well at the top end of Salhouse Broad. This lovely picture is of the newly hatched family on Salhouse Broad.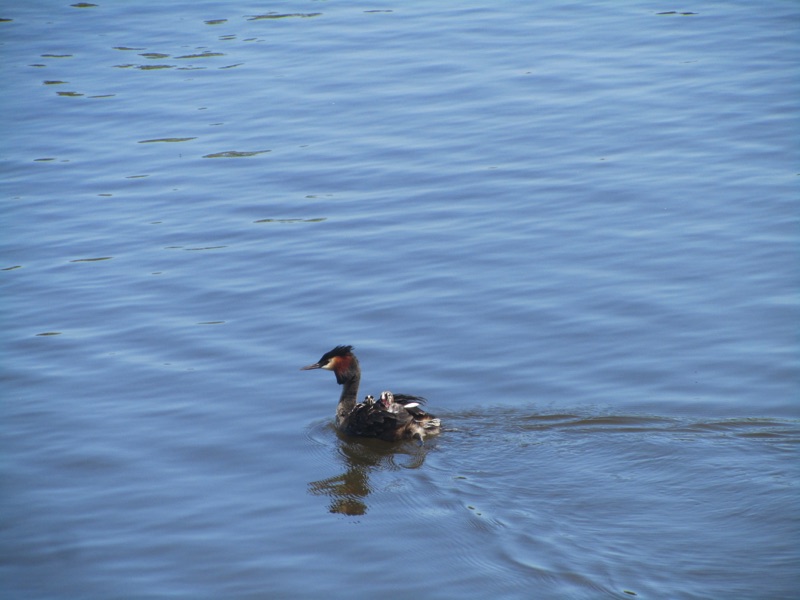 In the last blog we also revealed that a nesting pair of coots had hatched three young on Salhouse Broad. We finally managed to snatch this picture of them showing the babies bright red heads and dark, fluffy bodies.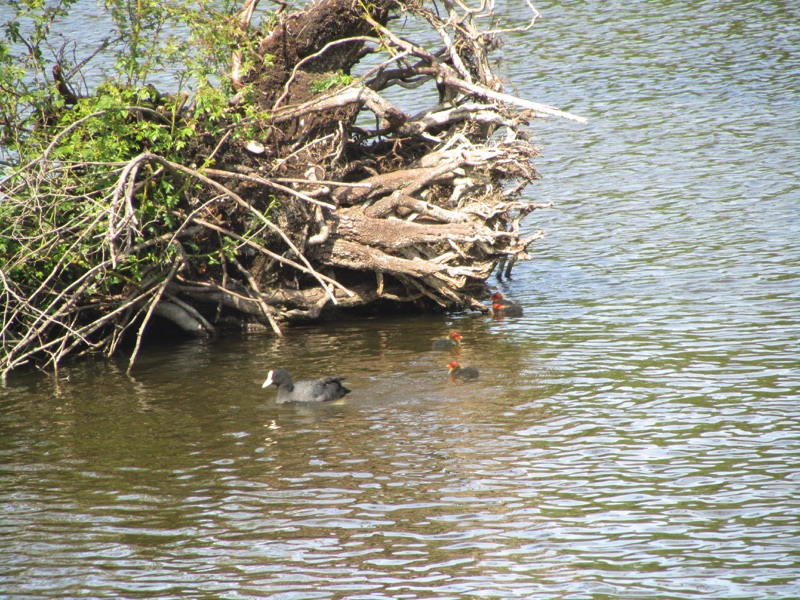 This is really good news as Coots – which were once common throughout the Broads – seem to be disappearing. If anyone has any theories on why this might be the case then we would love to hear from you and share the ideas on the blog. Simply email info@broads.co.uk.
The swan family that this blog followed nesting on Salhouse Broad are thriving and, despite the cygnets growing up quite a bit, they are periodically returning to their nest. This is shown in the picture below where, if you look closely, you can just see one cygnet popping its head over the nest.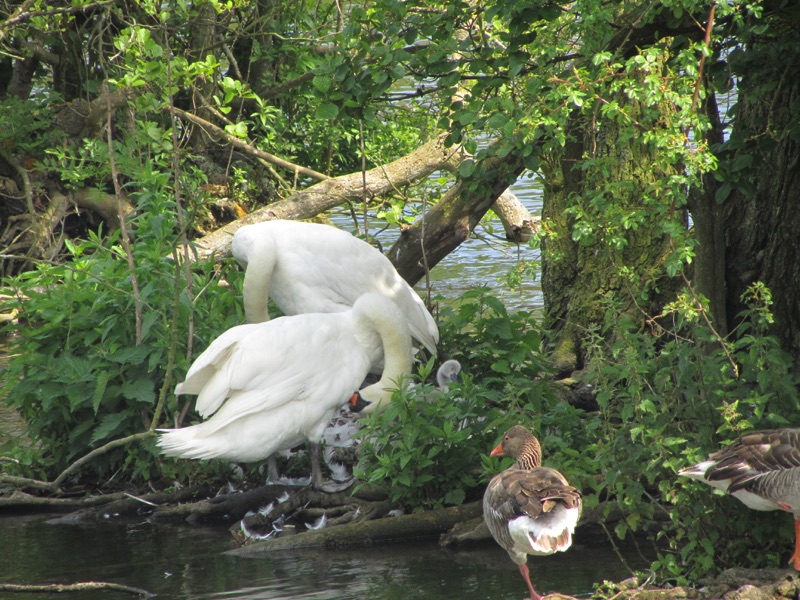 The two swan families in Wroxham village are also doing well despite continued territorial behaviour from the males in each group. The males are regularly seen puffing themselves up and patrolling invisible lines in the river half way through Wroxham village to separate territories. In fact they have been so aggressive that they have even swum at the bows of our 60ft trip boat a few times. Now that is bold!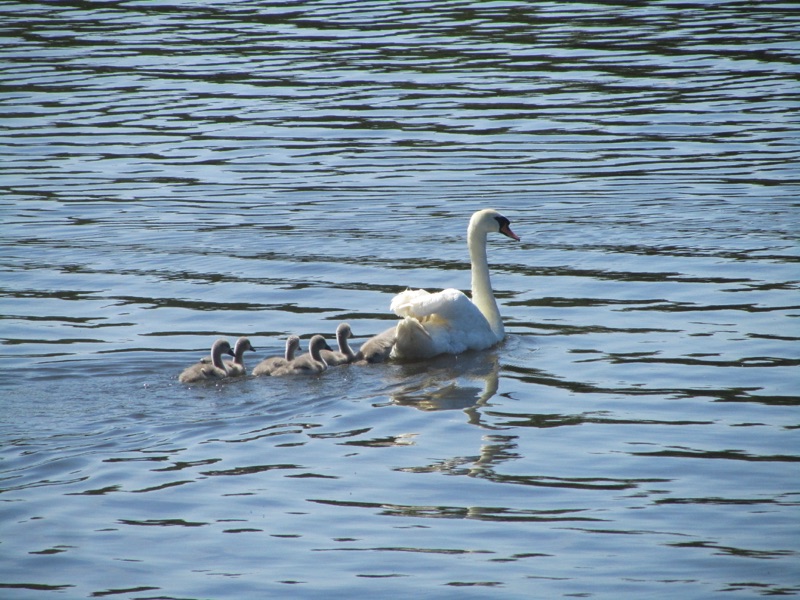 Elsewhere on the river in Wroxham village we have spotted a Moorhen with a pair of newly born chicks. Interestingly, the babies are completely black even though their parents are black with a red head. By contrast the coot chicks that are pictured above have black bodies and a red head, even though their parents do not.
On Wroxham Broad itself we have spotted a pair of Grey Herons carrying sticks to a remote corner of the Broad, which we can only assume is for a heronry. Watch this space for any more information.
Other birds we have spotted in and around Wroxham Broad include electric blue Kingfishers, which flash low across the water at around 40mph, the majestic soaring Marsh Harrier, the pint sized Kestrel, the amazingly agile common tern and the pitch black Cormorant, which is coming in from the north sea in increasing numbers as fish stocks there become depleted.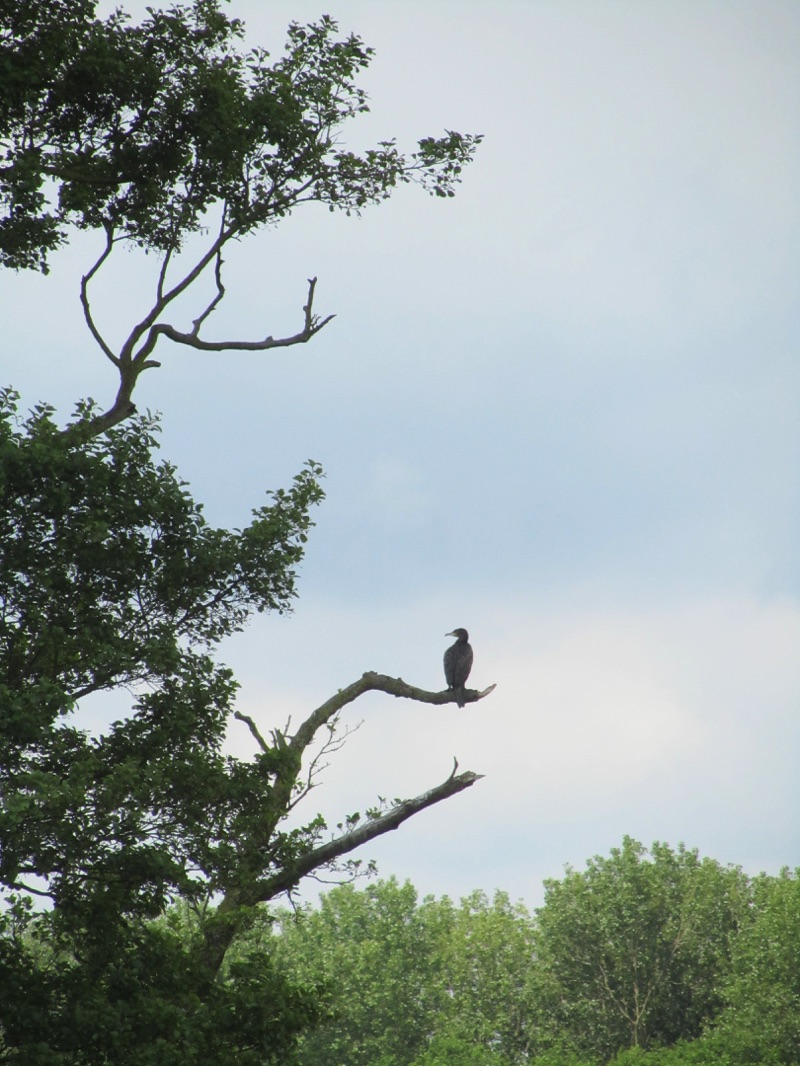 Words and pictures by skipper Oliver Franzen
Share your photos
This blog features a fantastic picture of an Egyptian Goose taken by one of our passengers – Carolyn from Australia. If you have taken any wildlife pictures on our trips we would love to share them on this blog. Simply send them to info@broads.co.uk or via Twitter @BroadsTours or Facebook by searching Broads Tours or Instagram norfolk_broads_direct