Santa's Pixies have been working hard baking mince pies and preparing the Vintage Broadsman for our sold out Santa Cruises, which start this Saturday.
The pixies have worked their magic transforming our paddle steamer – the Vintage Broadsman – into Santa's Grotto as well as wrapping up hundreds presents.
You can join our Facebook Competition to guess exactly how many presents were wrapped by Clicking Here

Even more excitingly we managed to take this picture of Santa  when he found a few minutes in his busy schedule to drop by for a final inspection of the Vintage Broadsman – passing the pixies with flying colours!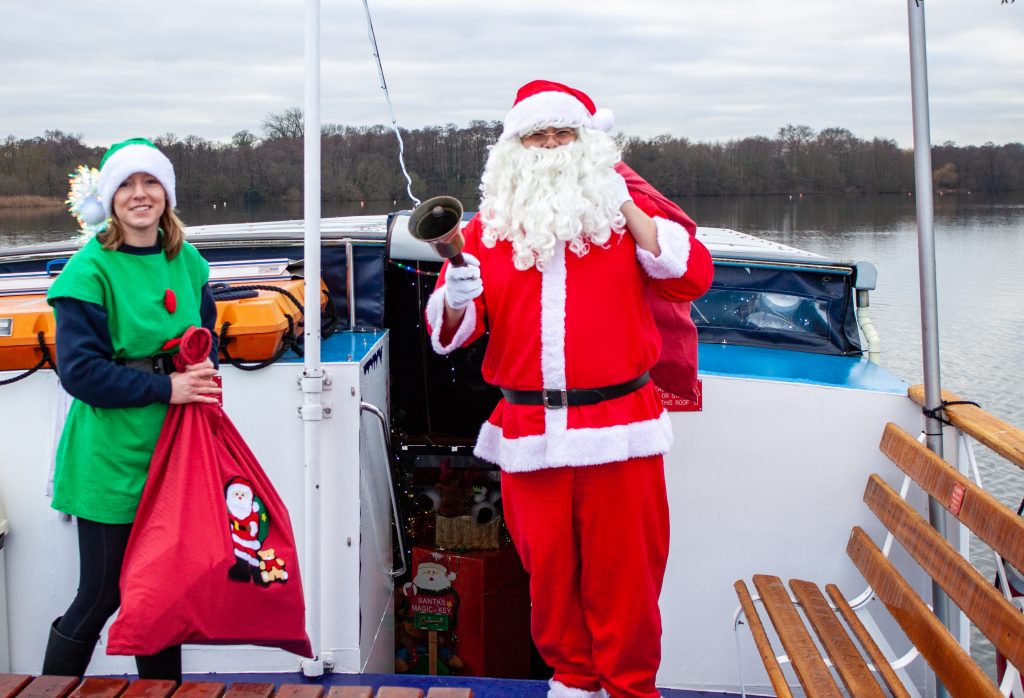 With Santa's approval the ever-popular Santa Cruises, which have delighted children for generations, can now start this Sunday.
The one-hour return cruises to Wroxham Broad depart from the Vintage Broadsman's special Christmas moorings close to Wroxham Bridge, where there is a lovely view of the boat lit up with Christmas lights at night.
During the cruise the Pixies will serve festive cookie and soft drinks to the children and mince pies and mulled wine to the grown-ups.  We'll sing Christmas songs and there'll be a festive quiz plus a Christmas colouring and drawing competition.
The real excitement will start when we reach Wroxham Broad where Santa has told us that he will have just enough room to land his sleigh on the roof of the Vintage Broadsman!  Better still Santa will hand an extra special gift to every child (aged 1-15)!
With a busy schedule of SOLD OUT trips running up to three times per day up to Christmas Eve we are really excited about sharing the festive fun with hundreds of children and their families!
There's also something for grown-ups to enjoy, with availability remaining on our popular Norfolk Broads festive cruises.
We're always excited to share previous Santa Cruise experiences, so be sure to post your images and stories with #santacruisememories so that our team get to see them!
For more information call 01603 782207.