Finally getting into the swing of homeschooling just as the term draws to a close? Are you wondering how you are going to keep those little minds busy for the next 6 weeks? 
We may be able to help!
The Norfolk Broads offer a great opportunity to learn and discover, no matter what your age!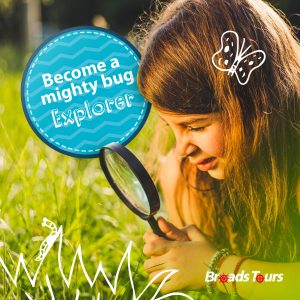 Become a mighty bug explorer
Children of all ages love adventure. Create your own checklist to help your children spot and count as many different creepy crawlies as possible as you explore the Broads. You may spot the famous, and exclusive Swallowtail butterfly, dragonflies and water boatman  all from the comfort of your day boat. During July and most of August you can even download the Butterfly conservation app and be a part of their annual Big Butterfly count.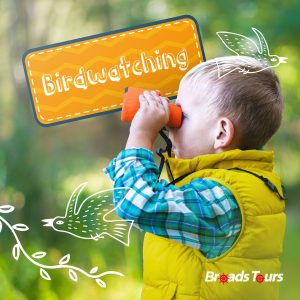 Birdwatching 
The past few months have been a busy and stressful time for many, including children who have had to adapt quickly to new practices and daily routines. Spend some down time together, spotting the amazing birds throughout the waterways. You don't need to be the next David Attenborough either, to keep younger children engaged why not simply set out on a duck counting expedition?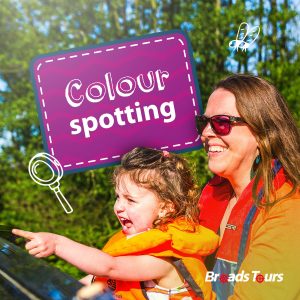 Colour spotting 
For young children colour spotting along the Broads can be a great and engaging activity. Pick a colour each and play to see who sees the most items of that colour during your journey.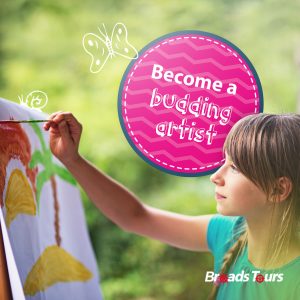 Become a budding artist
The Broads is full of beautiful scenery and history, such as St.Benets Abbey. Moor up and take it all in with some observational drawings. And if landscapes aren't your thing, maybe doodle your family, local dog walkers or even your ice cream! If you do create a masterpiece, we would love to see it! Share your photos with us using our hashtag #getonbroad and we will try to share your pictures in our Instagram stories.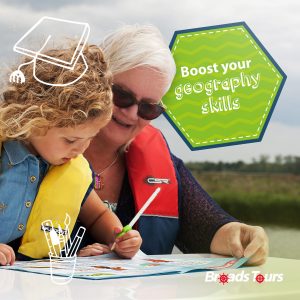 Boost your geography skills with lessons aimed at KS2 
There are loads of great resources available on the Broads Authority Website that support KS2, GSCE and A-level Geography. Ideal for a day out with children over 8, who can learn whilst experiencing the Broads first hand. You can find lesson guidance focusing on the water cycle, climate change and the origins of the Broads over on the Broads Authority website.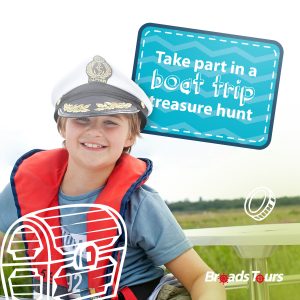 Take part in a boat trip treasure hunt 
Before hiring your boat or joining your river boat trip, create a list of things you may see along the way. We suggest including a good variety of objects and landmarks such as; 
A Feather 

A Bridge

A Butterfly 

A Swan 

A Red flower 

Fairbear

A Black Dog 

Someone eating chips 

A Captain's hat 
Create a paper list or a checklist on your phone and see how many of your items you can spot during your boat trip. You could always factor in a prize if you collect them all.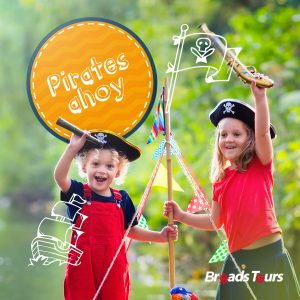 Create a pirate map for your journey. 
ARGHH! Become a pirate for the day with your very own pirate map. You can print an existing map of the waterways and add your own pirate theme, to allow older children to navigate along your journey. Alternatively your children can create their own map along the way, adding landmarks such a Wroxham bridge as your vessel launches and other markers along the way, to ensure you can find your way back after a busy day on the "wild seas".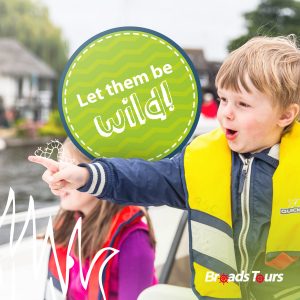 Let them be wild!
Remember, you don't have to pre-plan or structure your day out on the Broads for your children to learn and benefit from it. Just being outdoors is proven to enhance children's ability to learn and has a profound impact on their personal and social communication skills. Being outdoors also boosts everyone's mental and spiritual health, relaxing you overall. Is there a better excuse to get outside, take in the fresh air and spend some quality time together? We think not! 
Ready for your big adventure? Book your day boat hire or river trip today!