River trip select tickets
Selected River Trip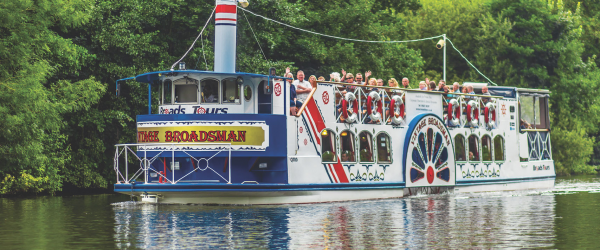 Vintage Broadsman - 1.5 hour trip
Thu 25th Aug, 2022 3:00pm
The Vintage Broadsman has been a firm favourite with our visitors since she was launched in 1988. The interior saloon has very comfortable upholstered bench and stool seating around 10 circular tables.
The open top deck with bench style seating is great for sightseeing and for enjoying the sunshine too. The aft deck has bench style seating with upholstered cushions. The ladies and gents toilets can be found on the aft deck and the bar is in the lower section.
Our 1.5 hour trip visits Wroxham Broad and Salhouse Broad.
Change Trip
Available Tickets
Child
£7.50
For children aged 15 or under.
Dog
£2.00
Small well behaved dogs are welcome on board; sorry - no large dogs are currently permitted due to space restrictions
Book the stern
£125.00
Book the entire bench seating area at the back of the Vintage Broadsman - for up to 8 people. Please be aware that other members of the public may pass through this area.