With the height of the summer season in full swing and school holidays kicking off we are still enjoying some wonderful wildlife sightings of our rarest creatures.  A fitting tribute to the excellent water quality and sustainable tourism we enjoy today.
Top of the list is the enigmatic Otter – which years ago were highly endangered and hardly ever seen – but now are appearing with increasing regularity on the Broads.
A few days ago, an Otter popped up in our boat basin behind the Vintage Broadsman as passengers were boarding.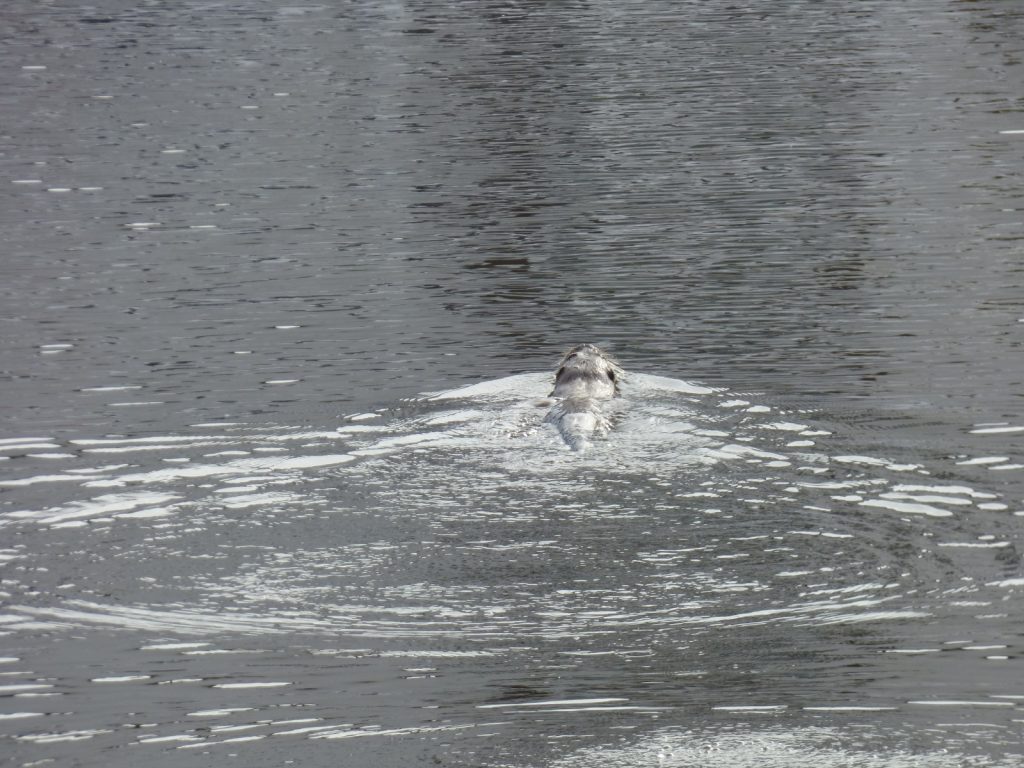 Undoubtedly the best otter sighting came on a 4pm boat trip with skipper, Tobi.  An Otter popped up in front of his boat near the downstream entrance to Wroxham Broad.  Remarkably Tobi managed to follow the Otter for about a quarter of a mile as it swam upstream towards the start of Wroxham village, presumably unconcerned by the boat.  It was a wonderful opportunity for passengers to get a really good view of this amazing animal!
Perhaps even more excitingly, we had two separate sightings of a Bittern landing in the reedbeds near Horning reach by skippers Tom and Oli only a few days apart.  Despite being one of the best loved and most iconic birds on the Broads – Bitterns are hardly ever seen as they are very rare, secretive and well camouflaged so to have two sightings in the middle of the day when the river is busy is quite remarkable.  Maybe this Bittern is a particularly brave!
We have continued to have wonderful sightings of Norfolk's iconic Swallowtail butterfly on Horning reach, but perhaps the most special encounter came while taking Ashley Primary School students around Hoveton Great Broad Nature Trail.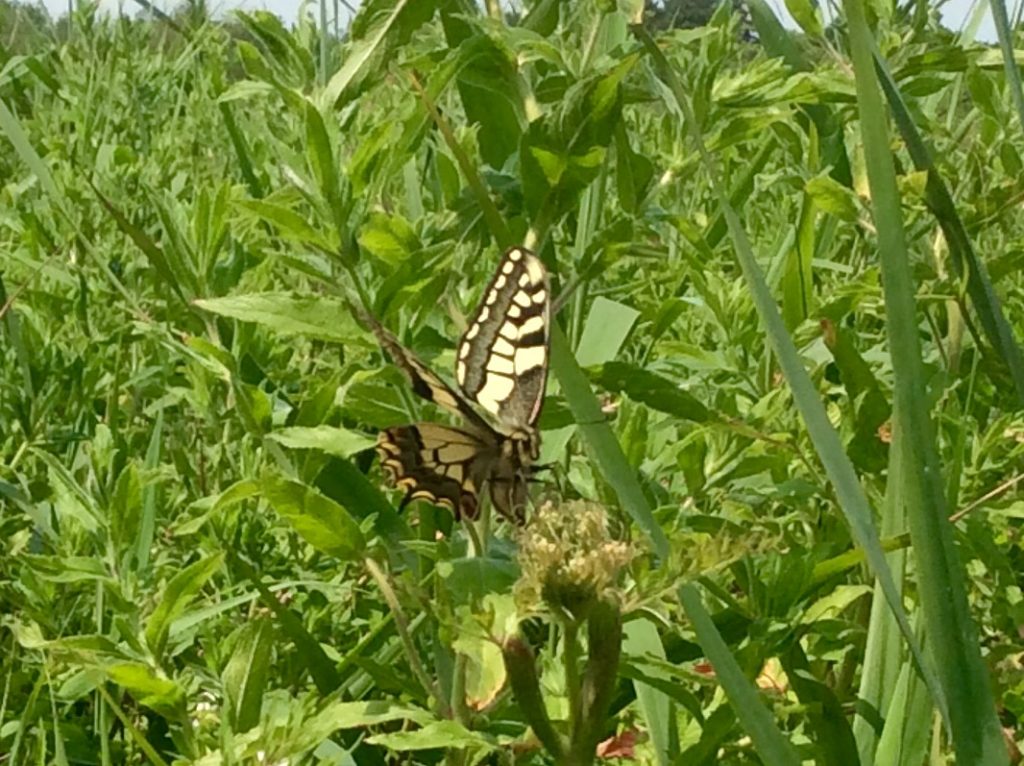 Skipper Oli, who was leading the group said "I led a group of children around Hoveton Great Broad to watch a colony of common Terns nesting from a bird hide but we got more than we had bargained for as Britain's biggest butterflies – The Swallowtail – emerged from the reedbeds and one even landed on one of the children's brightly coloured hats.  It was a magical experience that will hopefully inspire the children to continue to enjoy Norfolk's wonderful wildlife. "
The Children's teaching assistant, Megan Sayer, managed to take these lovely pictures of the Swallowtail (above and below).  The amazing butterfly is only found on the Broads and nowhere else in the world because its caterpillar can only eat a plant called milk parsley, which will only live in Norfolk's reed and sedge beds.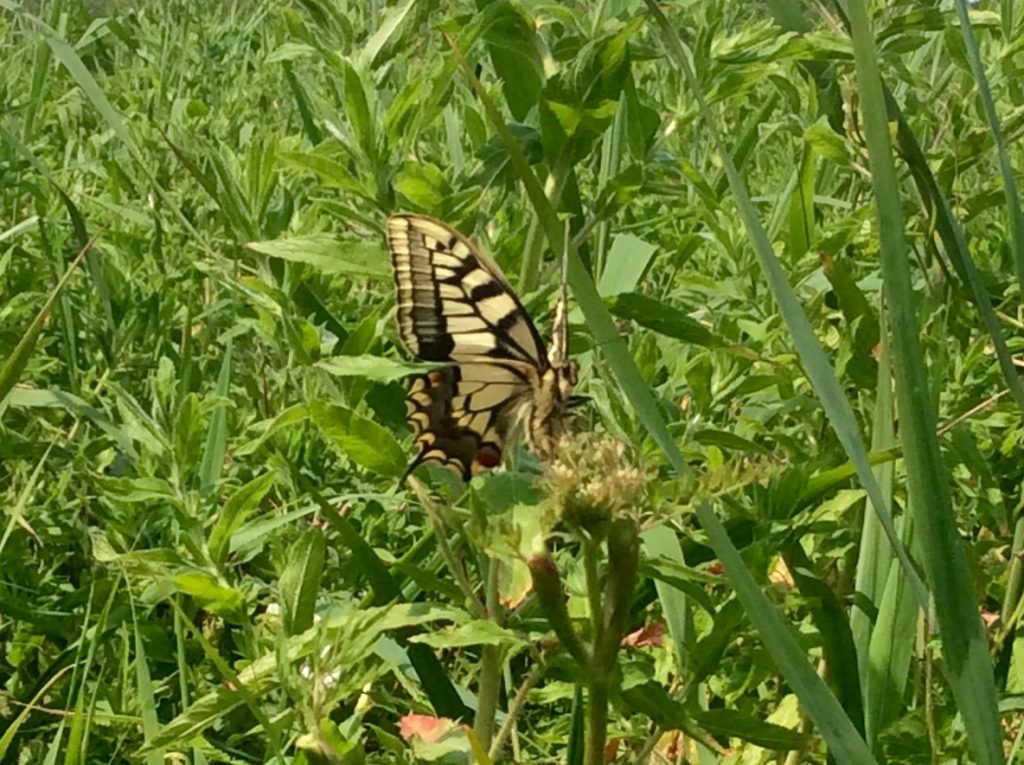 Another majestic sight is the increasing number of Marsh Harriers we are seeing on our boat trips, particularly around Horning reach.  These large birds of prey were almost extinct in the 1970s (down to their last pair) but are now an increasingly common sight on the Broads despite being nationally still rarer than Golden Eagles.
Aside from our endangered species we have also had some unusual encounters with more commonly seen animals.
Oli spotted a Cormorant catching a huge eel of at least two feet long, battling it in the water and then gulping it live down its throat in sections.  "I tried to grab my camera to capture the moment but by the time it was safe to take a picture the Cormorant had just swallowed the Eel.  But I managed to take this picture showing the Cormorant looking extremely full and unable to dive away from our boat as a result," Oli said.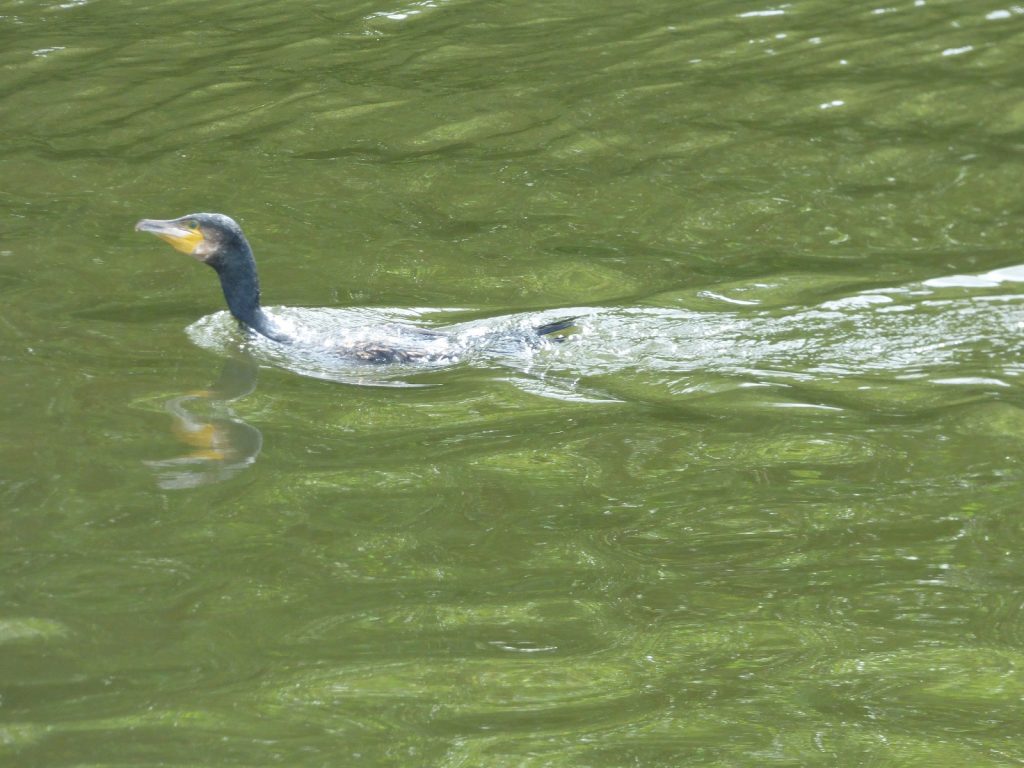 Tom also saw a juvenile heron trying to catch a fish in open water.  "The Heron was flapping around in middle of the river and the fish was jumping out of the water to try to escape from it," Tom said.  "It's something I have never seen before as Herons usually stand very still and fish in the shallows.  Maybe it was just a young bird learning the ropes," Tom said.
Another interesting sight is a hybrid goose, crossed between a Greylag and Canada goose.  The goose, which is shown in the far left of the picture below looks very similar to the Greylags that surround it but has a white stripe across its face, presumably relating to the white chin strap on a Canada goose.

We are keeping tabs on our water bird families, with the Grebes on Salhouse Broad and Swans in Wroxham and Hoveton doing well. The three families of swans have two, three and five cygnets respectively.  The male swans in the families have been acting very territorially, driving each other out of their specific territories recently and even bullying the geese to boot.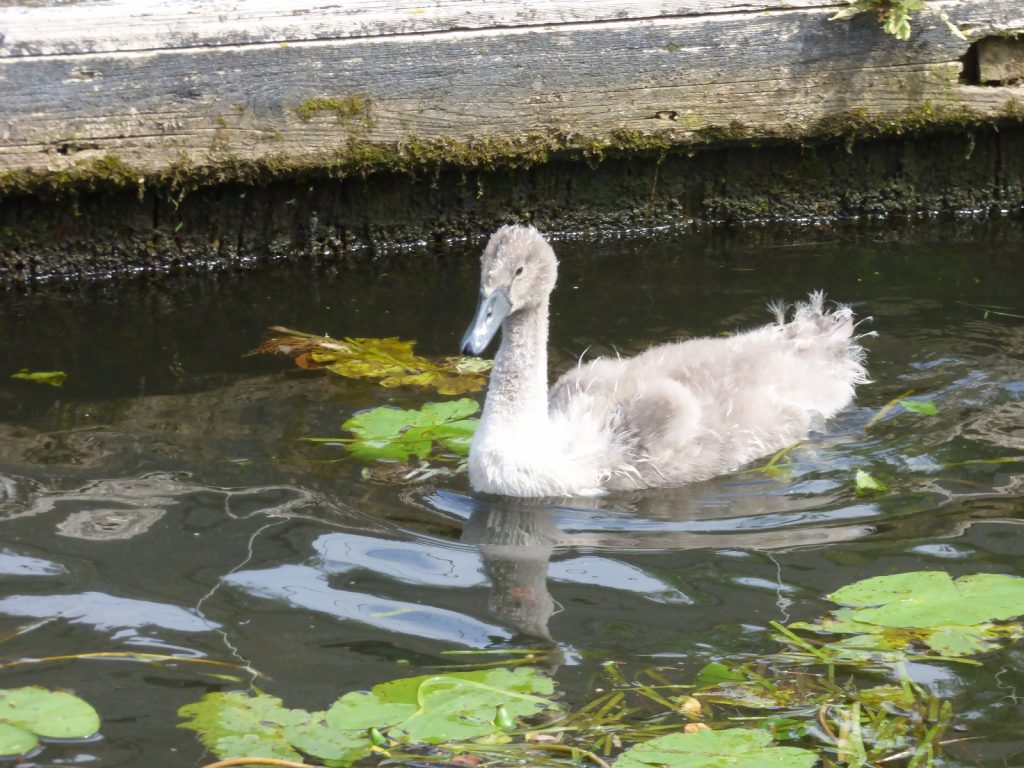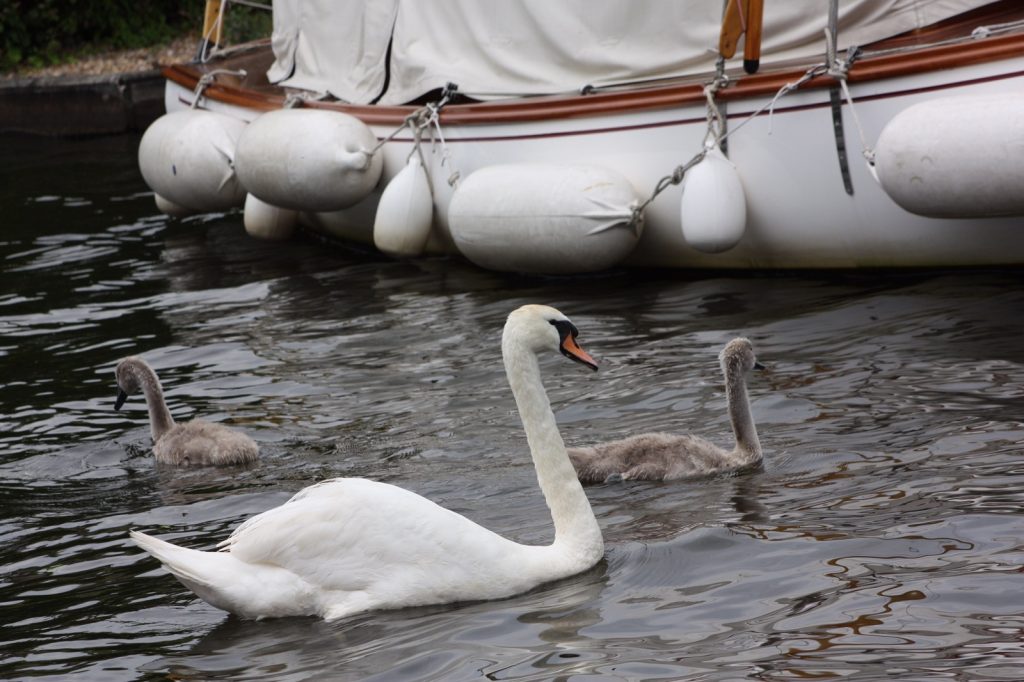 Some of the birds seem to be exhibiting some mating ritual behaviour – grebes doing their mirror dance – which makes us think that they may try nesting again before the summer is out. The ducks, as ducks do, just keep on going through the summer and Salhouse Broad yielded a family of twelve fuzzy ducklings!
The bankside colours are extremely striking at present, awash with pinks in the form of Hemp Agrimony, Purple Loosestrife, Greater Willowherb and Himalayan Balsam. The latter is an invasive species that was brought in by the Victorians and is a bit of a problem plant here in the Broads as it takes over and outshades other native species. It does have beautiful flowers though, and unless it has been pulled up by the Broads Authority and their volunteers, you'll see it growing up taller than all the other flowers with its pink orchid like flowers.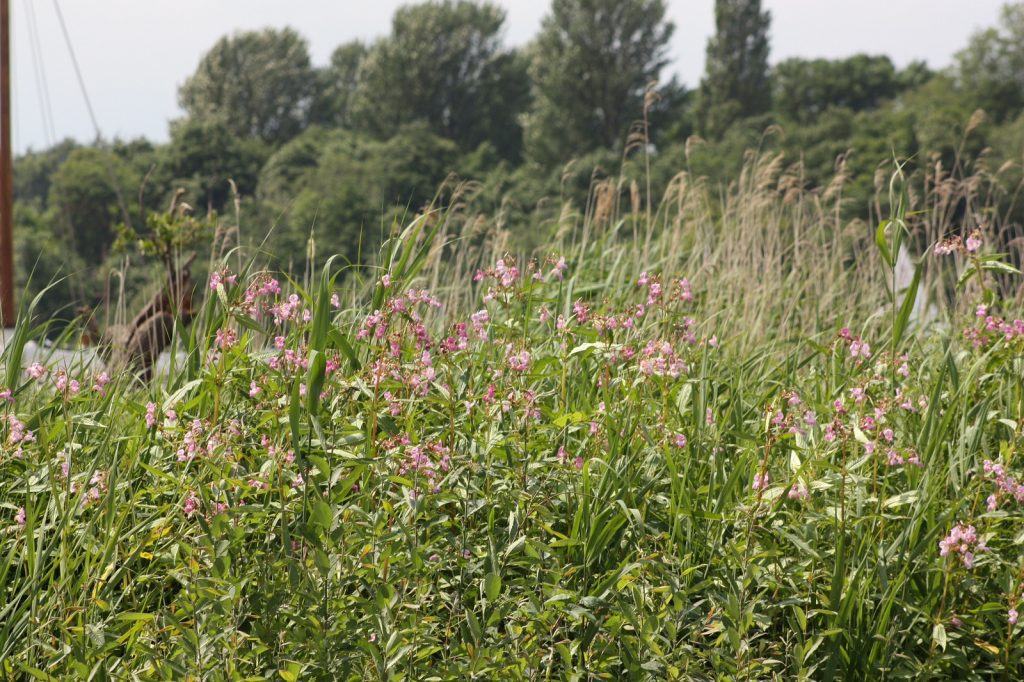 Each year we are seeing more and more lilies along the riverbank and this year is no exception.  In addition to the more common yellow water lilies we have quite a few native white water lilies.  These are not only Britain's largest native flower but are also very rare as they are very sensitive to any kind of water pollution.  So, the fact that we have so many of these in the Broads these days shows just how good the quality has become.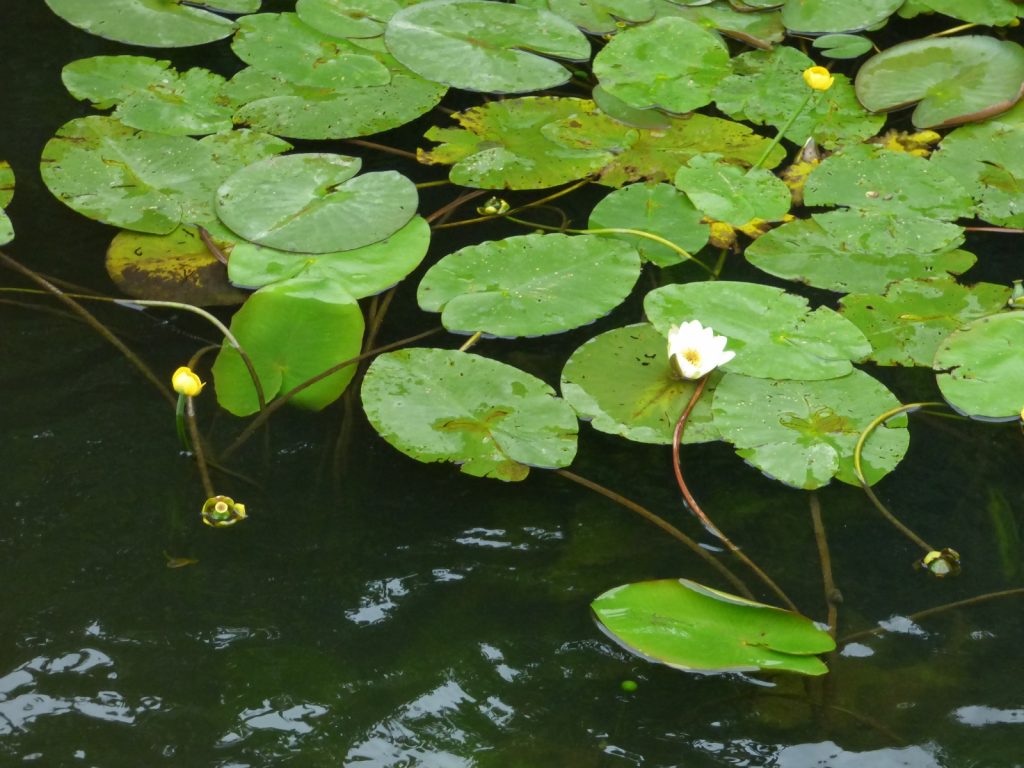 On another note the fishing season kicked off a month ago and there have been plenty of fisherman out and about. From the river trips we have managed to spot a successful catch with a 20lb pike being held aloft, the wolf of the waterways with their sharp teeth present quite the formidable opponent!
This picture shows Skipper Oli, with a 16lb pike he caught on Rockland Broad two weeks ago.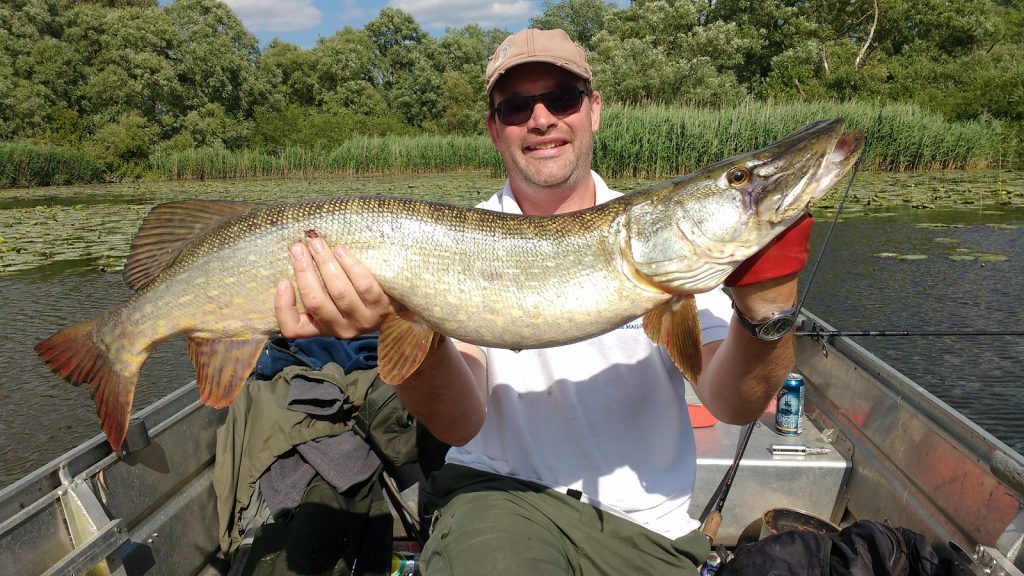 On a final note, the Broads' open skies are a feast for sore eyes for colourful reflected sunsets. Here's a photo Oli, captured on an evening charter.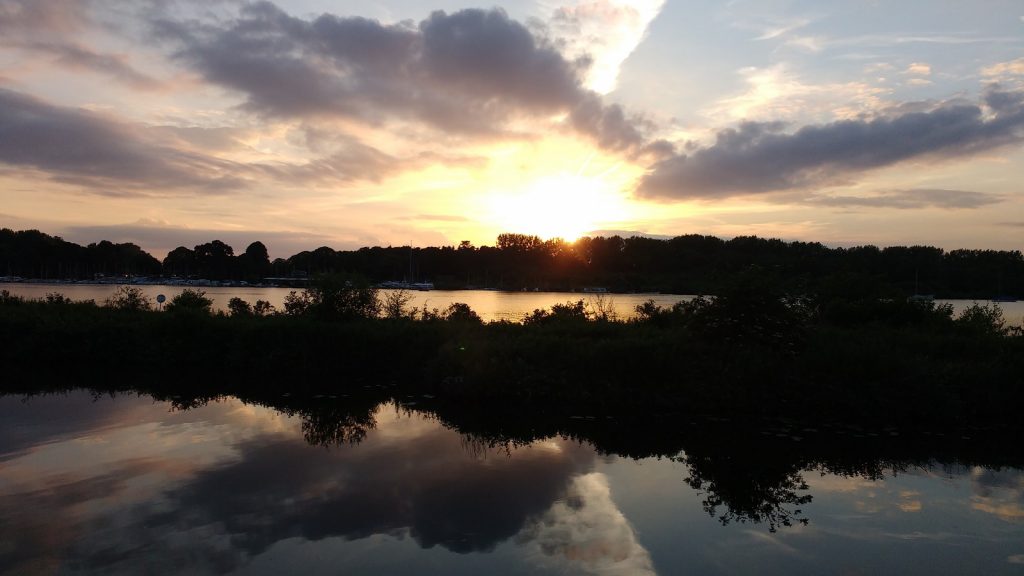 Remember to email us your sunset and nature photos to info@broads.co.uk
With so much to see on the river why not bring all the family on a Broads Tours boat trip, or hire a dayboat and explore on your own! Tel: 01603 782 207.