It may have felt like winter until recently but this hasn't deterred the arrival of the swallows and wonderful courtship and nesting rituals from a variety of birds.  With the weather due to really hot up this week, feeling like it has skipped straight from winter to summer, it's the perfect time to head out onto the water and see the wildlife for yourself.
A real highlight is watching at least four pairs of great crested grebes nesting on Salhouse Broad.  The birds, which are related to the penguin, have their feet on the back of their bodies which makes them excellent divers but useless on the land.  As a result, great crested grebes build floating nests to lay their eggs on. And passengers are loving watching the females sitting on these rafts while the males busily gather items to add to the nest.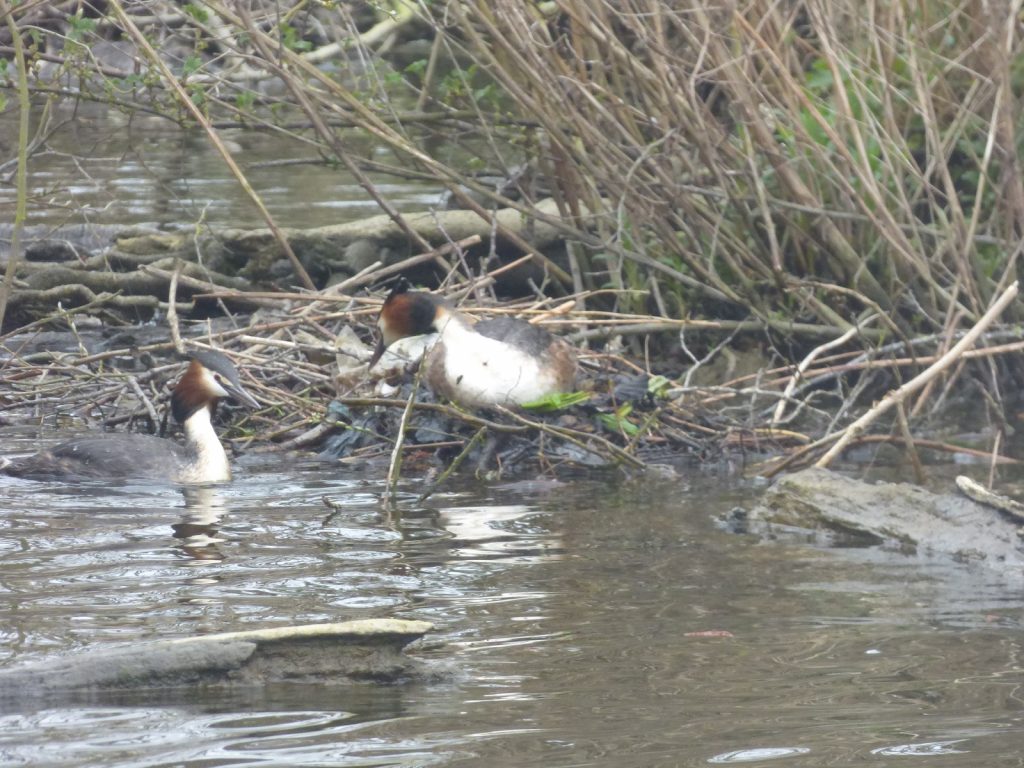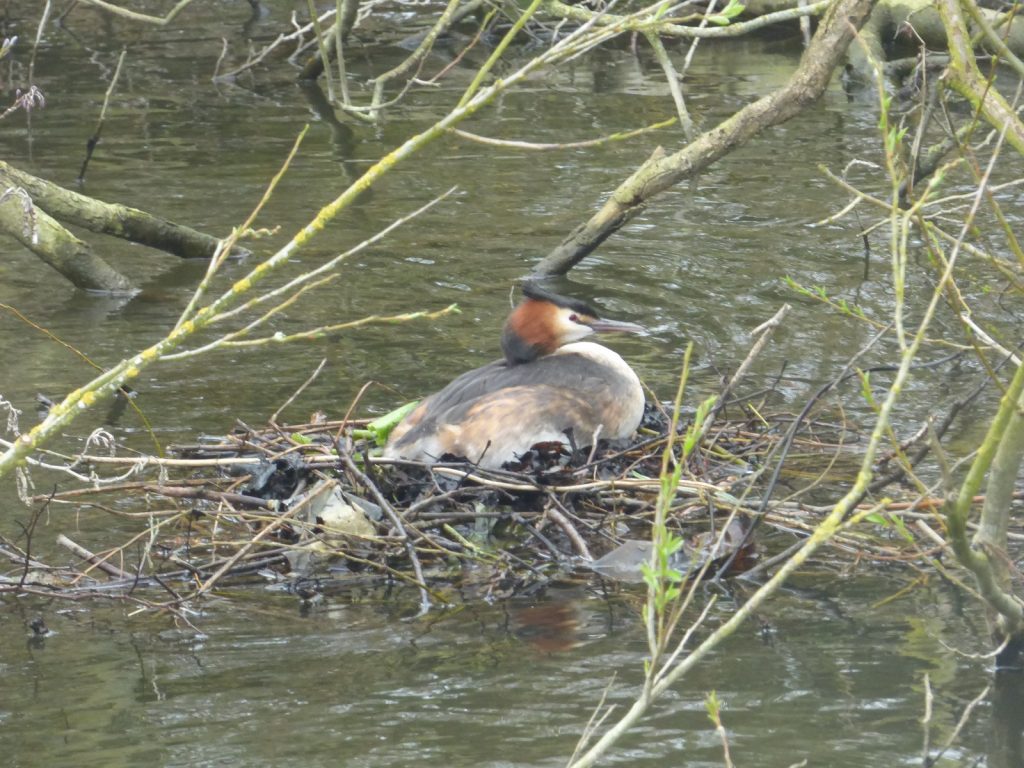 Great crested grebes often start building a nest and then abandon it to build another one in a preferred location.  A pair of coots are making good use of this opportunity by starting to nest in one of these abandoned rafts.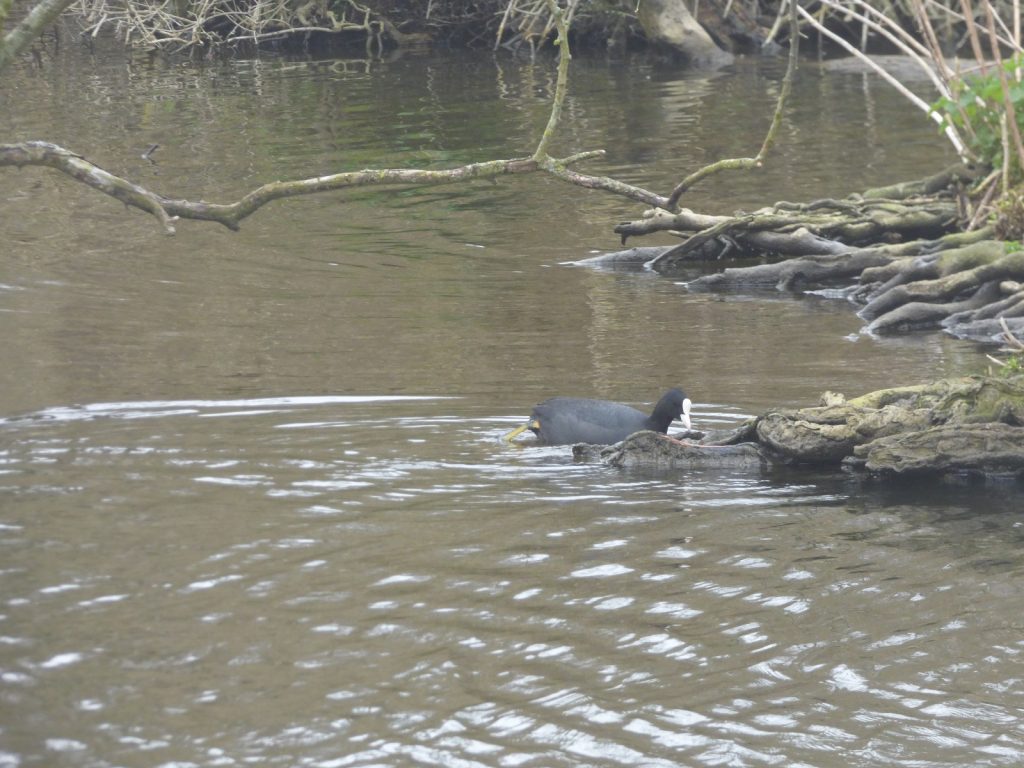 Canada and Greylag geese are also nesting on Salhouse broad at the base of tree trunks.  The greylags are particularly well camouflaged – can you spot them in the  pictures below?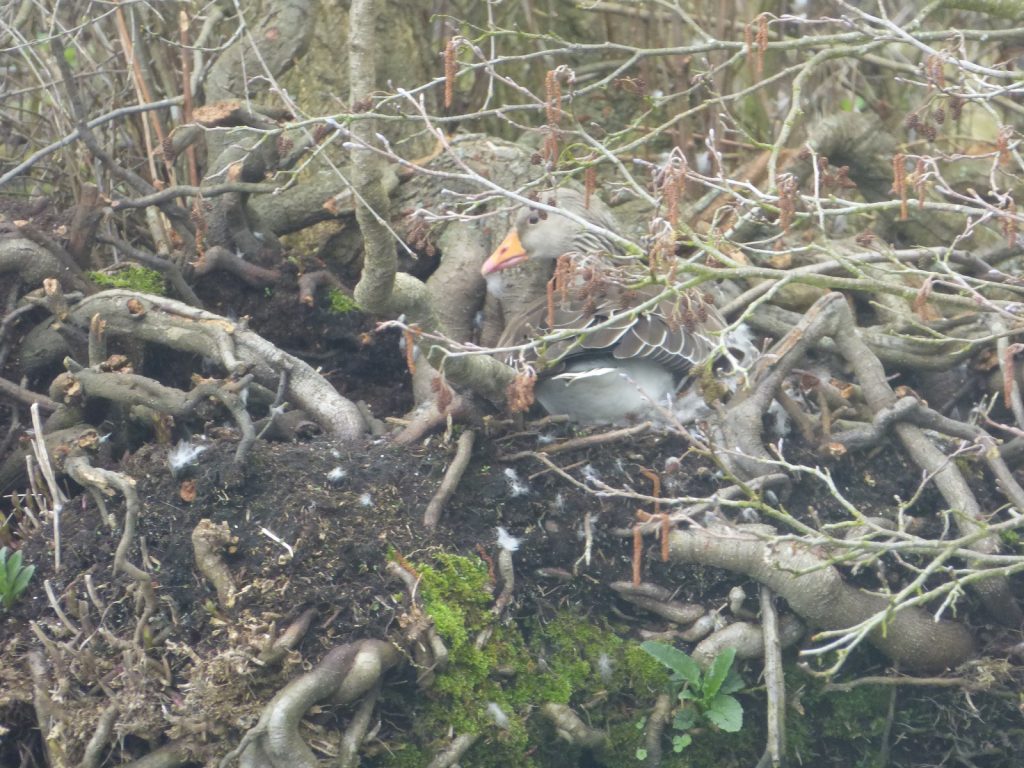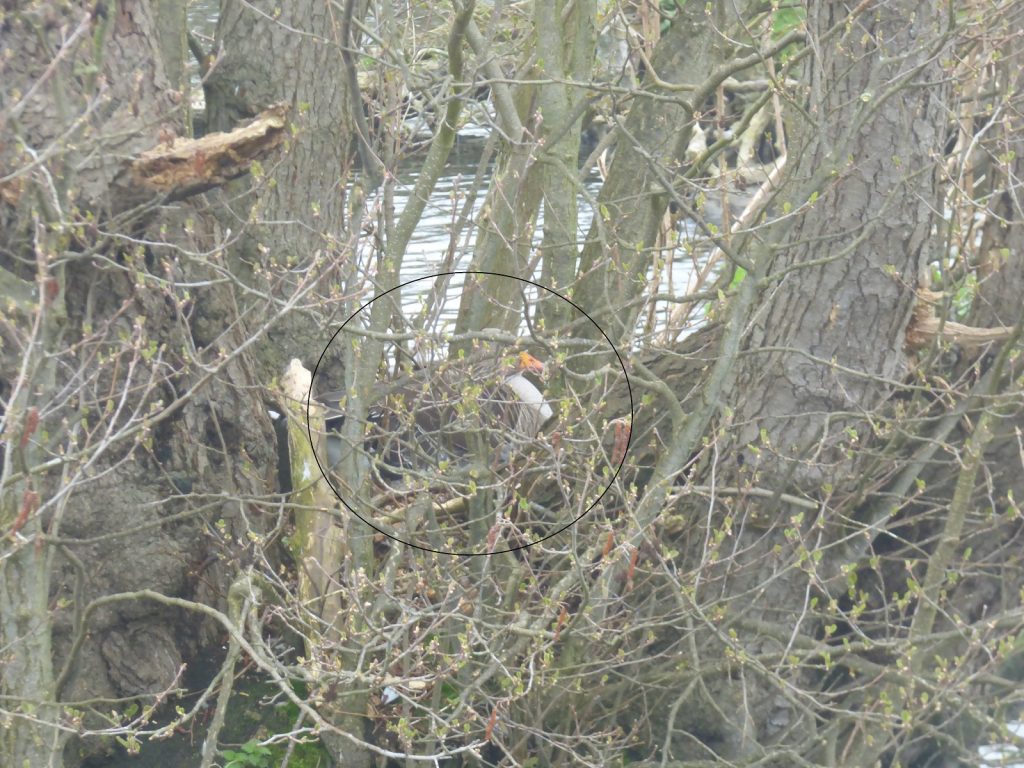 Perhaps our favourite sighting close to Salhouse Broad was a pair of kingfishers flying together in courtship.  Skipper Tom explained: "We were cruising towards Salhouse Broads and a pair of kingfishers came zipping past at a rate knots. Both the kingfishers landed on a stump together, giving us a fantastic view.  The fact that it was dull weather actually magnified the vibrant colours of the kingfisher.  The beautiful birds then followed the boat down river for the next couple of minutes which was a magical experience."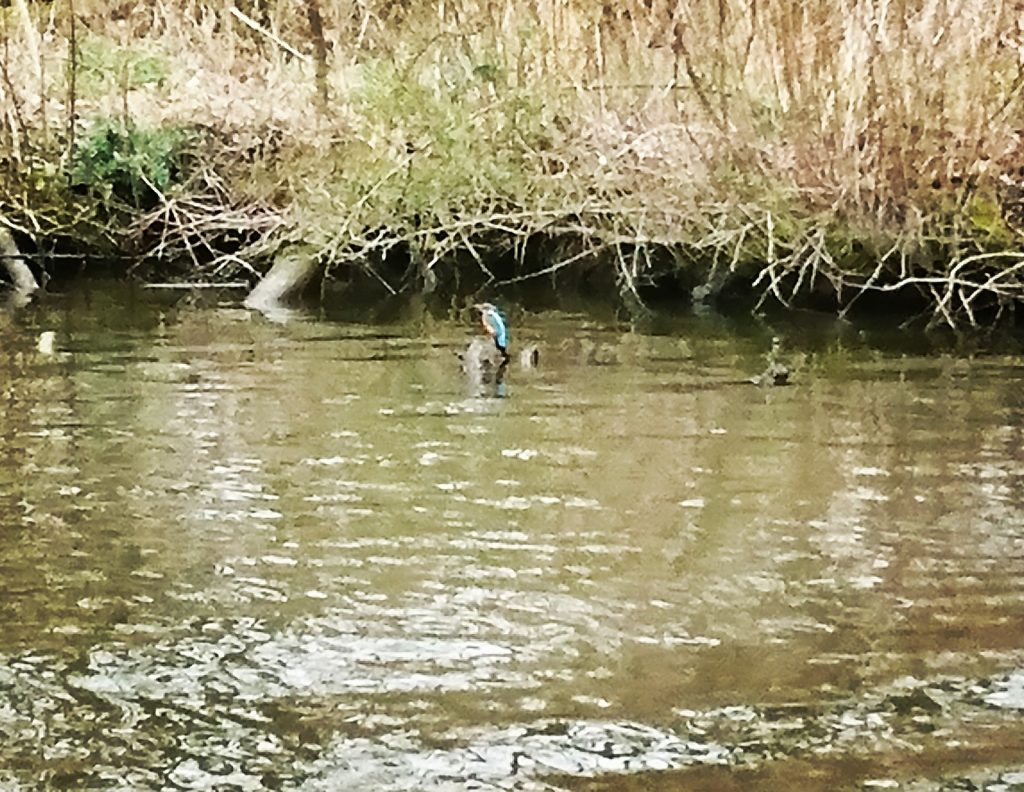 Another fantastic site has been lots of marsh harriers gliding over the reed beds in Horning Reach.  On several occasions we have seen pairs of birds circling together, probably as part of their breeding rituals.  This is great news as in the 1970s these sensational raptors were driven to the brink of extinction but are now recovering well.
Back on the water, swans have been puffing themselves up and displaying territorially.  And a pair of these graceful birds appear to be alternating between two potential nesting sites in the undergrowth near Salhouse Little Broad and another small broad called the Pulk.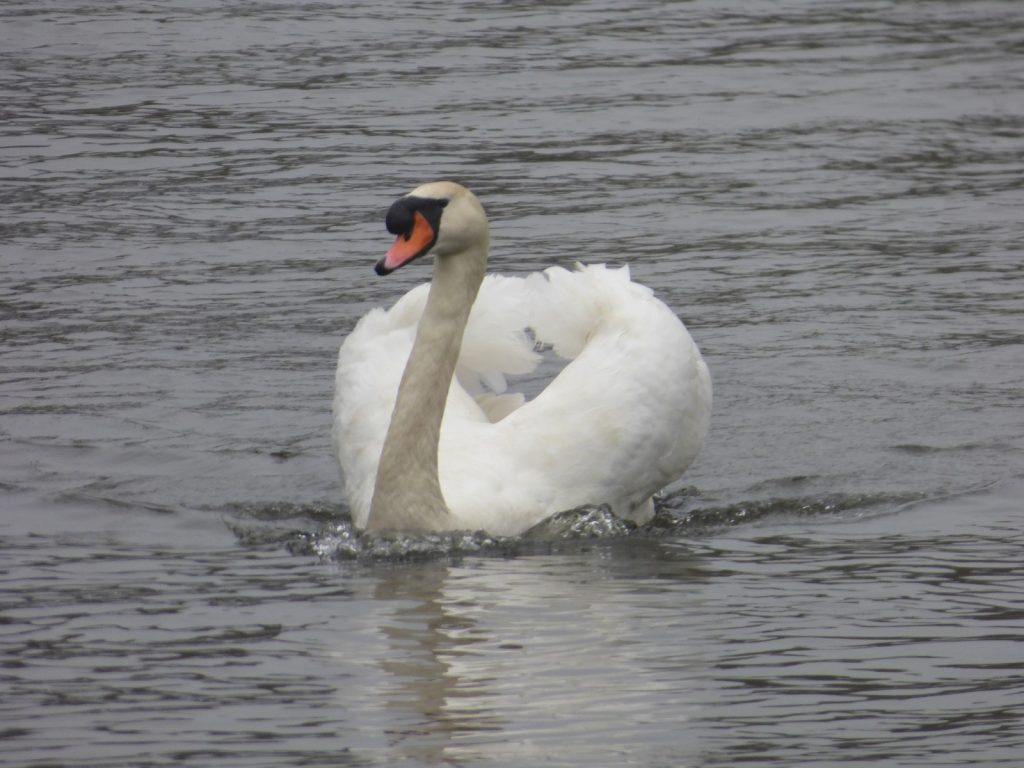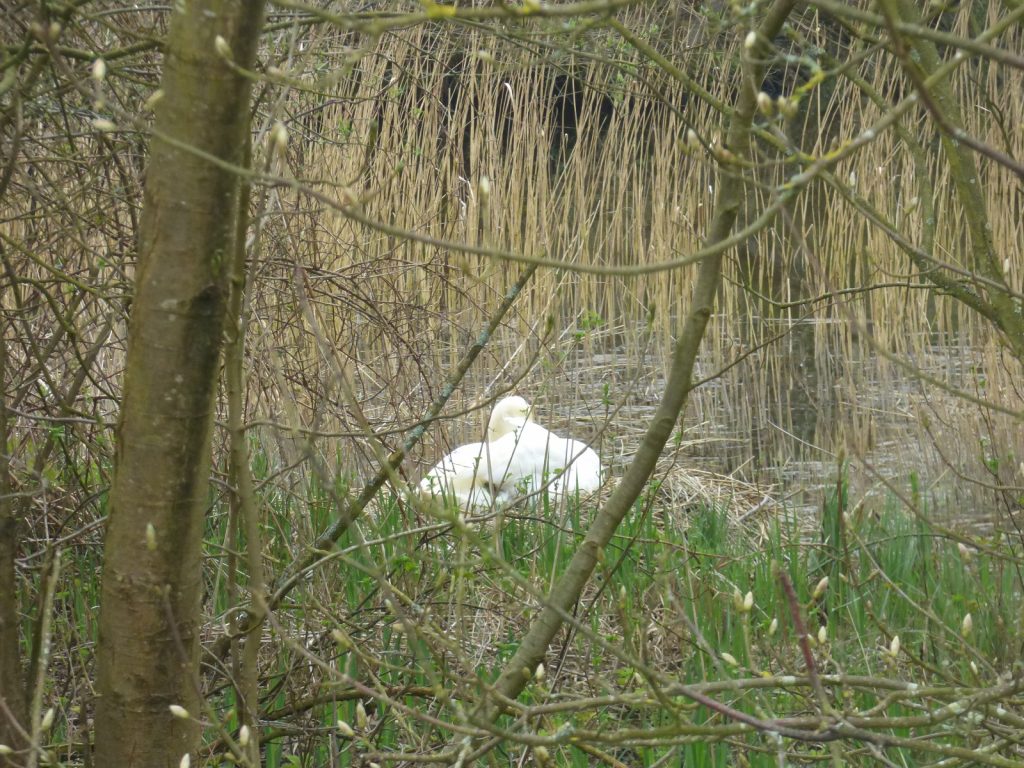 Another interesting sight is a pair of Egyptian geese that are returning to their regular nesting site on the roof of a summer house in Wroxham Village.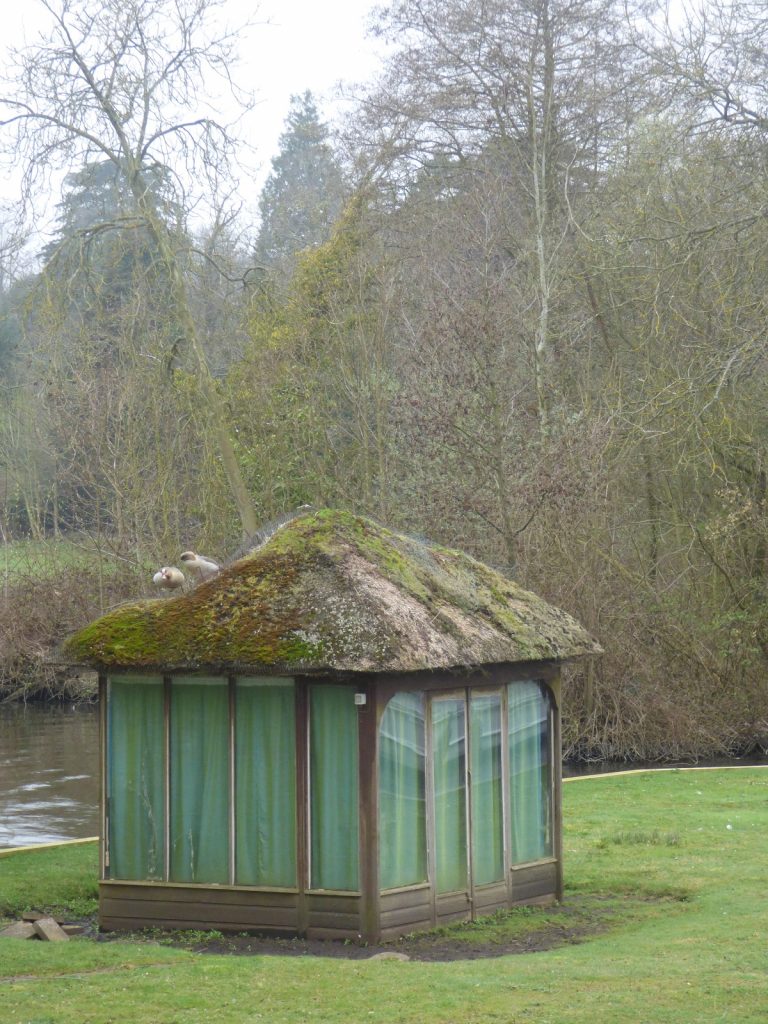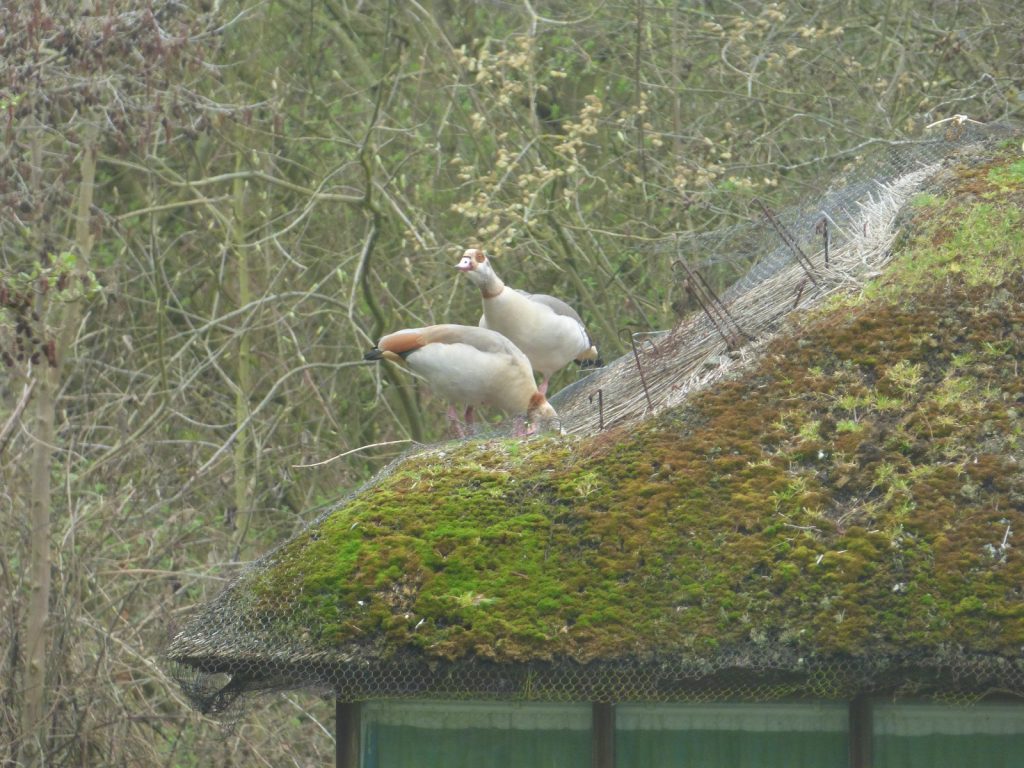 Unfortunately we saw the Egyptian geese being bullied by this larger greylag goose which pushed them off the roof of the summer house.  This picture shows the bully a few seconds after it's bad behaviour!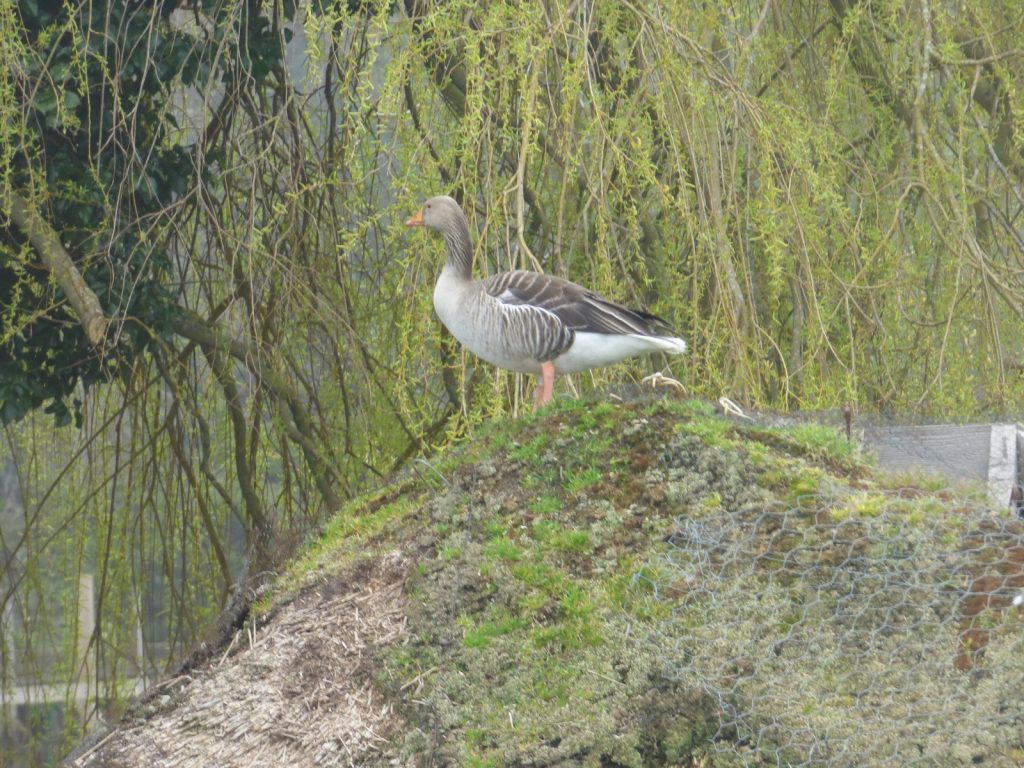 Interestingly the reason that Egyptian geese are so much smaller than Greylags, is because they are closely related to shelducks rather than being a true goose.
Our first swallows arrived about two weeks ago and more and more can be seen flying low over Wroxham Broad to catch insects.  The dull weather tends to encourage insects to hatch and this has been a great opportunity for the swallows to catch plenty of food – deservedly having a good meal after their epic migration from Africa!
This picture shows the broad looking particularly atmospheric on a misty day last week.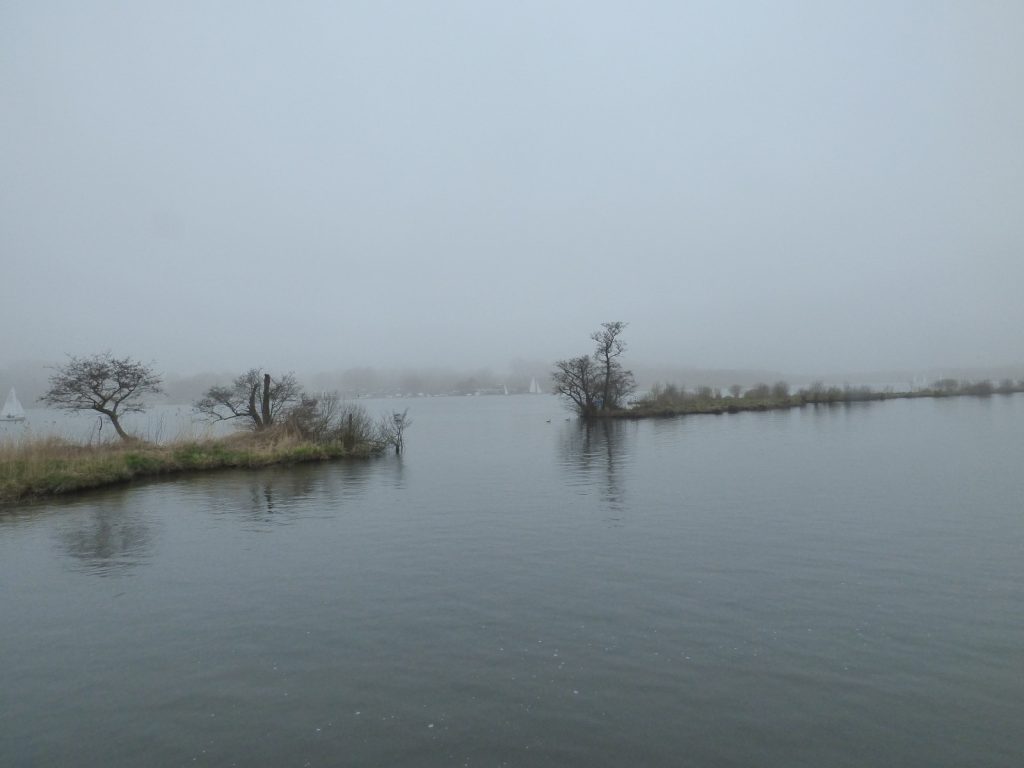 We also took this picture of two black headed gulls on the sign for Wroxham Broad.  Despite their name, it is only the mature birds whose heads turn black in the breeding season before going white again in the autumn and winter.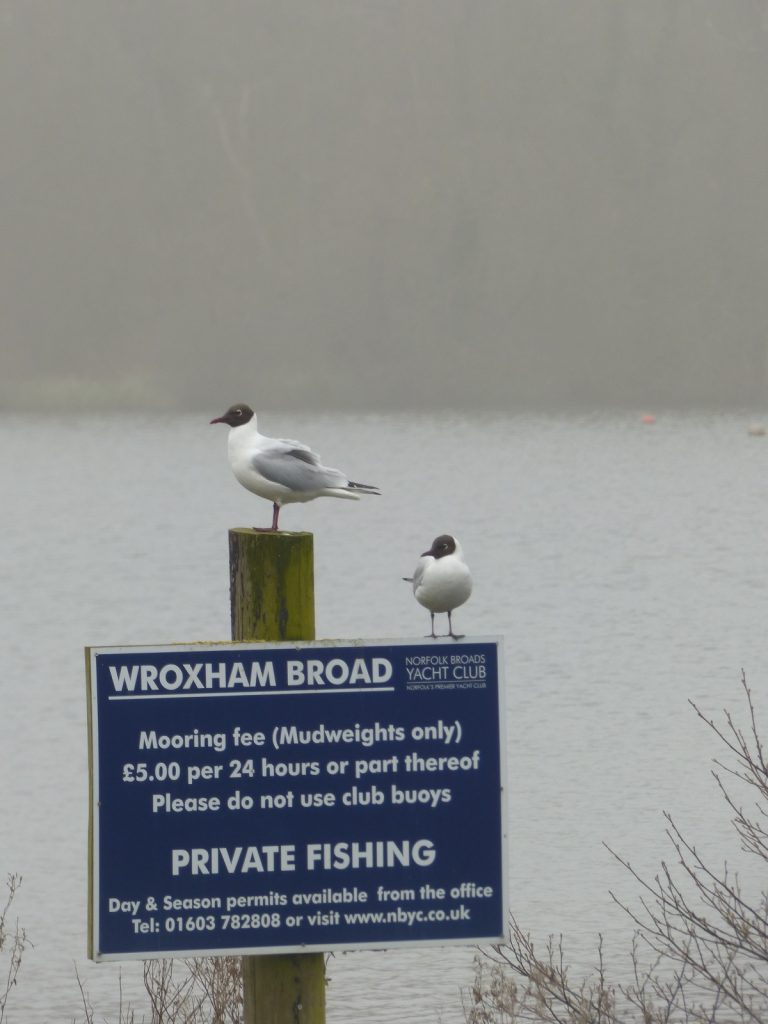 The colder weather and lack of heavy boat traffic has encouraged tufted and pochard ducks, which usually disappear after winter, to remain on Wroxham and Salhouse Broad in greater numbers than you would usually expect at this time of year.
The picture below shows a pair of tufted ducks on Salhouse broad and the stark difference between the males and females. The black and white male looks stunning with a beautiful tuft on its head while the female is a drab brown and has no tufts at all!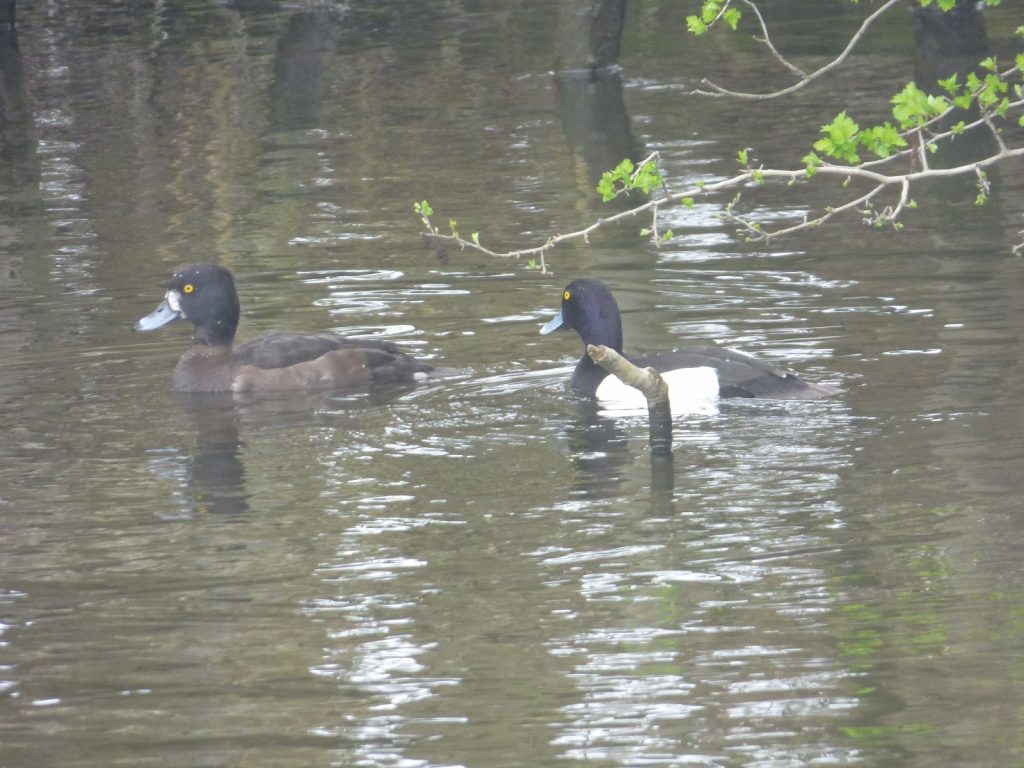 Similarly in this group of pochards pictured on Wroxham Broad you can clearly see the males with their distinctive red heads and white bodies, while the female looks drab and brown.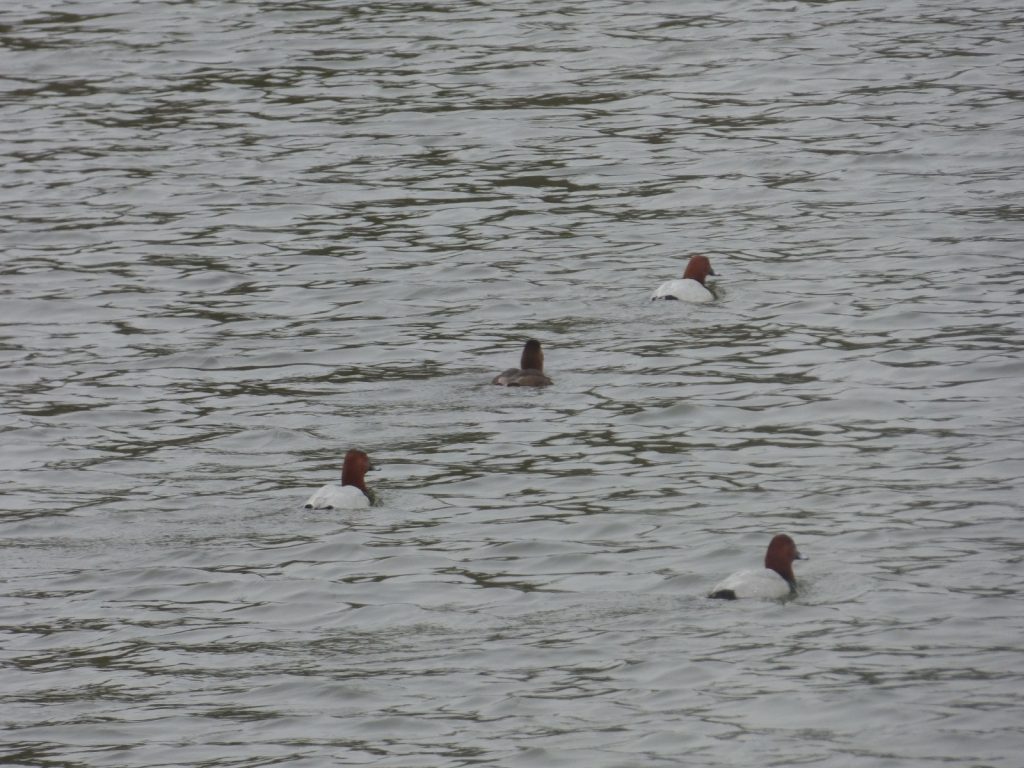 Although the bankside vegetation certainly appears to be a little behind for the time of year we currently have a splash of colour from skunk cabbage and the marsh marigolds shown below.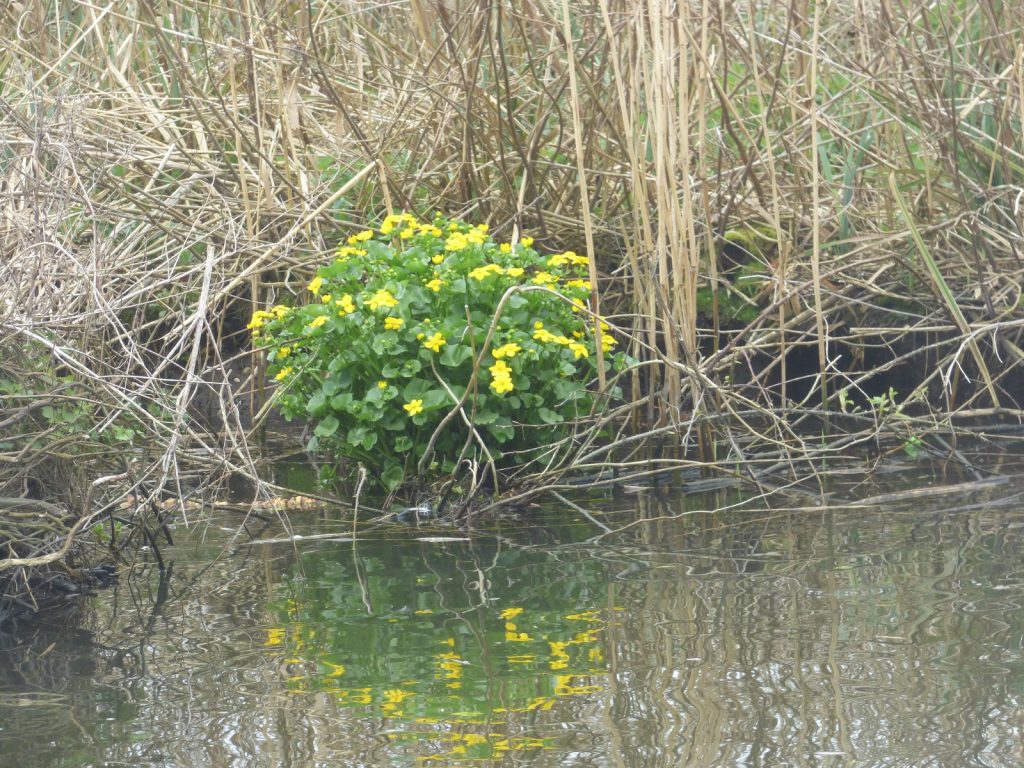 Finally, while not strictly wildlife, we will leave you with this picture of these adorable spring lambs pictured while out walking in Salhouse village!