We are delighted to announce that Broads Tours has re-commenced day boat hire with effect from 12th June 2020.
We have given much thought into how we will operate our day hire operations once current restrictions have been lifted – what follows is what you might find different on your next visit to Broads Tours.
In general
We have produced safety videos for hirers to download and view before they arrive at the boatyard; as well as information to keep you safe on the water, the short films also give you a reminder of starting and handling tips for your boat.
We are also in the process of setting up an online booking process to reduce the need to queue and purchase tickets on site (though this is still possible).
We have implemented social distancing marks on areas where customers are likely to queue, and we would ask that if you are purchasing tickets from our ticket window, only one member of your party joins the queue.
While the current Coronavirus restrictions are in place, all hirers should be from the same household or support bubble.
To reduce the amount of boats needing to be cleaned, for a limited time, the minimum hire period will be 3 hours (or 2 hours after 3pm) – no hires will commence after 4pm.
Our customer toilets (located in our car park) are cleaned and sanitised regularly, and hand sanitiser is available as you enter the toilet block – it is recommended that you sanitise your hands before and after using the toilet.
There is also a hand sanitising station on the dayboat quay, and you should sanitise your hands before fitting buoyancy aids to yourself and your family.
Our friendly staff will still be there to get you on the water and give you instructions on where to go and how to operate your dayboat – though they may be wearing gloves and facemasks if social distancing cannot be maintained.
Standard dayboats
All hard surfaces on board will be cleaned and sanitised with a suitable anti-viral disinfectant conforming to EN14476, with particular attention paid to 'high-touch' areas such as steering wheels, throttle controls, seat backs, and seat cushions.
Day Cruisers
Following guidance, we have been asked to remove all crockery and cutlery from our day cruisers, so if hiring such a vessel, please bring your own plates and mugs with you. We will continue to supply you with a kettle so you can make that all important hot drink!
In addition to the control measures on the standard dayboats, the sink and hob area will also be sanitised, and the toilet will also be cleaned and sprayed with an anti-viral disinfectant.
The fabric upholstery in the seating area will be sanitised with a formulated fabric disinfectant.
Your return to the boatyard
Our staff will instruct you on where to moor, and disembark your boat.
All day hire vessels will be cleaned and re-sanitised after each hire.
Our buoyancy aids, provided free to all customers will also be treated with a suitable anti-viral disinfectant after each hire period.
These additional measures have been introduced to keep you, and our staff, safe during your visit to Broads Tours.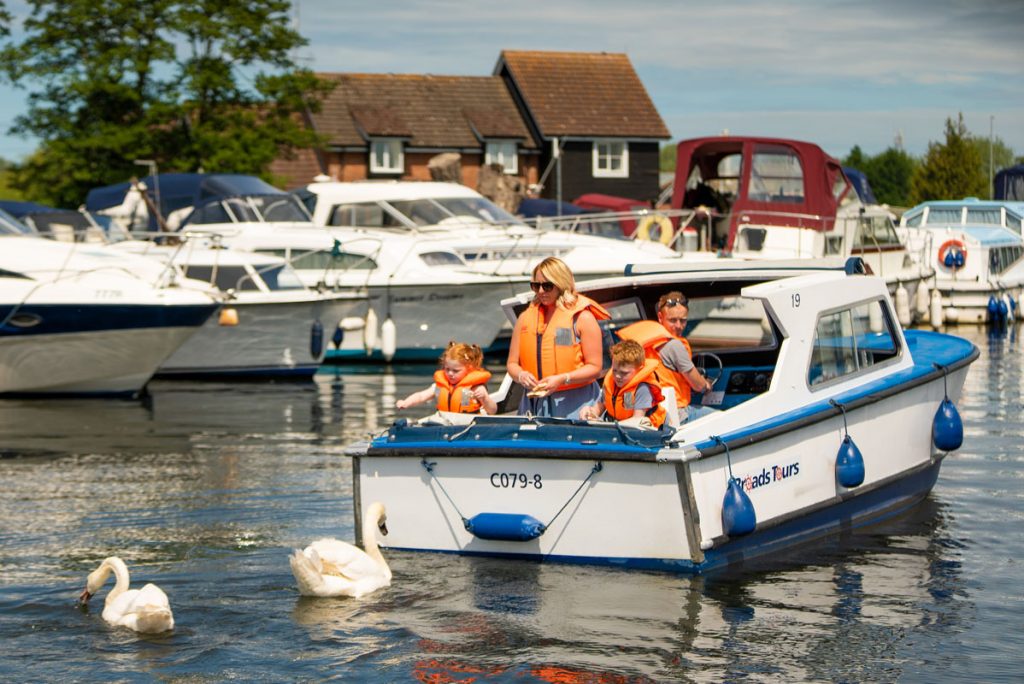 For more information, please see the full Government guidance.
Passenger boats remain closed pending further easing of the restrictions, but rest assured that we are working diligently to ensure your safety when trips are permitted once again.